Coroner halts inquest into salt poisoning death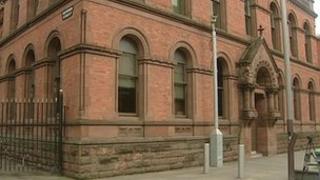 A coroner has halted an inquest into the death of a four-year-old as he felt an offence may have been committed.
Lindsay Angela Alvarez, from Dundonald, was admitted to hospital with a brain swelling in 2009.
The girl, who was originally from the Philippines, died from complications resulting from salt poisoning.
Coroner Jim Kitson said that in light of evidence given to the inquest, he would send a report to the Public Prosecution Service.
High levels
A sodium expert told the inquest he believed the girl had been forced to eat between five and seven teaspoons of salt; equivalent to the amount in 10 hamburgers.
Dr Duncan Coulthard said a child's normal intake of salt would be two-thirds of a teaspoon.
When asked to explain how such high levels of salt were found in her blood, he said: "I can't accept the possibility she took it voluntarily."
Dr Coulthard said salt poisoning was dangerous, and the body's natural reaction to quickly excrete it caused the brain to swell.
The girl died in the Royal Victoria Hospital's intensive care unit on 4 August 2009, just a few weeks before her fifth birthday.
On the day she was first taken to the Ulster Hospital in Dundonald, she was being looked after by her uncle, Michael Valderama.
Her mother, Amelda, who wept at times during the hearing, and her aunt Mylia, who are both nurses, were at work.
'Unusual'
A speech therapist told the court that Lindsey had "severe and complex" communication needs.
Elaine McGreevy said the girl rarely used gestures, and said she was not sure that Lindsay could communicate if she was in pain.
Consultant paediatrician Dr Dewi Evans, who was asked to review clinical findings, told the inquest that it was unusual for a child to get fractured ribs.
He said he "couldn't rule out she was thrown down stairs".
The inquest had previously been told that the child had fallen down carpeted stairs in her uncle's flat two weeks before her death.
"Children who fall accidentally don't usually get serious injuries," said Dr Evans.
'More to it'
He added he would have expected other injuries "such as a cut lip, a fractured wrist and bruising to the shoulder".
He said his experience of autistic children was that they "don't chuck themselves down the stairs".
When pressed, he said he could not rule out that it may have been accidental, but he also could not rule out his concerns.
"There's more to it," he added.
Prof Archibald Malcolm, a histopathologist, estimated that Lindsay had fractured her ribs two weeks before her death.
He said she did not have any bone disease. Asked by the coroner if that was important, he said: "Very."
Asked if he thought her fractures were related to a fall or were non-accidental, Prof Malcolm said on the balance of probabilities, it was in keeping with the fall.