Francis McPeake gives evidence at his trial for child sexual abuse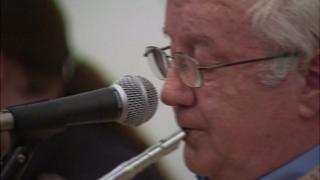 A Belfast musician accused of having a sexual relationship with an underage girl has been giving evidence at his trial.
Francis McPeake, who is 72, denies all 12 charges.
The alleged abuse happened between June 2009 and May 2010. They relate to one individual who cannot be named for legal reasons.
Mr McPeake said that he had tried to help the alleged victim because he thought that she had a "rough life".
On numerous occasions throughout the proceedings, Mr McPeake denied having sex, inappropriately touching or kissing the complainant.
When a defence barrister asked him if he ever had sex with the alleged victim, who is now aged 20, he replied: "Never in my life. No."
Mr McPeake is due to be cross-examined by the prosecution on Friday.