Nuala O'Loan: Chief Constable Matt Baggott 'must' share information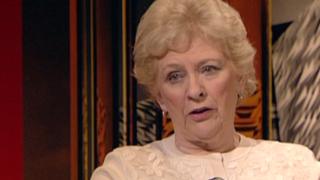 A former police ombudsman says NI's chief constable is bound by law to hand over information about allegations of criminal behaviour by police officers.
Chief Constable Matt Baggott is being taken to court by the current ombudsman.
It is over claims he obstructed investigations into allegations against the police in 60 murders.
But the former ombudsman Baroness Nuala O'Loan says the law is clear on the issue.
She told BBC's The View: ""There is no reason for any negotiation or anything.
"The chief constable is under duty to pass the information over.
"The responsibility is then on the police ombudsman to take such measures as are necessary to protect the lives of any informants.
"The police cannot argue that they have no duty to hand this information over.
"It's absolutely explicit.
"Parliament made its will clear."
The PSNI has said it has a legal responsibility for the care and management of all information that it holds.
Baroness O'Loan was Northern Ireland's first police ombudsman, between 1999 and 2007.