Hamiltonsbawn, County Armagh: Two arrested over attempted theft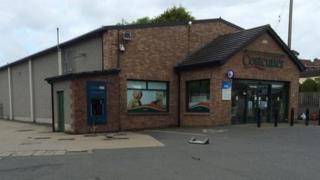 Two men have been arrested by police investigating the attempted theft of an ATM machine at a filling station in County Armagh.
An explosive device was attached to the ATM at the Costcutter shop in Hamiltonsbawn.
It exploded at about 02:30 BST on Thursday, causing extensive damage to the machine.
An Army bomb team made the device safe.