Comic Con and Q-Con set to battle for geek hearts and minds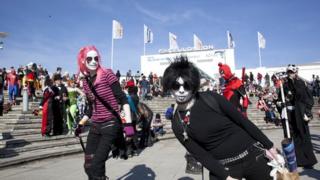 Imagine the 21st birthday party of something you've built up and hold dear - then imagine something glitzier swooping in and stealing the show.
That is the position organisers of Q-Con, a student gaming and anime convention in Belfast, found themselves in after MCM Comic Con announced they'd be bringing their show to the city for the first time ever.
The major convention is due to get under way at the King's Hall on Saturday, just two weeks before the 21st annual Q-Con is held at Queen's University.
When I first spoke to Niall Bole from Q-Con, he was angry at the prospect of the home-grown geek culture weekender being eclipsed.
"When I heard Comic Con were dropping in on us like this, it put my nose out of joint," he said.
A week later, on the eve of the bigger show's start on Saturday, Niall was conciliatory.
He said: "We understand that they're just trying to make a profit. The sad bit is that we're nearly clashing."
He worries that fans, possibly cash-strapped, will not want to pay in to both events when they are so close together.
Resources
Conventions like Q-Con and Comic Con are a chance for aficionados of 'geek culture' - mainly comic books, science fiction and videogames - to meet and play games.
Over the years, Q-Con has developed from a club of like-minded university students to an event attracting 3,000 visitors.
A comedy night, cultural quiz, games consoles and board games are on offer too, as well as a card game tournament.
It is still a non-profit event, Niall said, and has seen its pre-registration numbers drop this year since Comic Con announced its Belfast debut.
However, it appears Q-Con does not have the resources of its bigger rival.
Comic Con will see actors from Red Dwarf, Game of Thrones, Doctor Who and Star Trek: Voyager at the King's Hall.
'Unfortunate'
MCM operate Comic Con events in almost 30 countries. Last month's London Comic Con attracted 101,000 visitors.
Bryan Cooney, the Comic Con events promoter, said the timing of the event was "unfortunate" but didn't think the company will change its June visits to Belfast.
"It's unfortunate it's worked out the way it has but it will be the same next year," he said.
"Ultimately it's not our responsibility to vet everything going on.
"We couldn't go to Belfast in July because it's marching season, and we have events in other cities at all other times."
Mr Cooney said his team had not heard of Q-Con until eight weeks ago, when people on social media started complaining that the events were too close together.
He said: "It's not that Q-Con isn't a great event and has not been going for a long time, but it's impossible to keep track of every event."
He also argued that the two events are for different audiences.
"Q-Con is a university-based anime event," he said. "We are Comic Con, which is a modern pop culture event.
"We have got a very broad reach and we attract a very broad audience.
Profit
"Someone who's 40 years old isn't going to go to Q-Con. An eight-year-old isn't going to go either."
So when it comes down to it, will one event soar like a superhero while the other has its grand plans foiled?
Well, it seems Q-Con may have seen a way to profit from the commercial giant's visit to town after all.
They will advertise at Comic Con, to try and attract visitors to their own event.
"We want to see more geek culture things coming to Northern Ireland," said Niall.
"It's unfortunate that we've ending up fighting over timings when we should be shaking their hands and saying 'welcome to Belfast'."
Perhaps as 'geek culture' becomes less niche, this doesn't have to be a battle.
Maybe there's room in this town for both Q-Con and Comic Con.
Maybe if the organisers bump in to each other this weekend, the atmosphere can be a little more Farmville than Street Fighter.