Ryan Robinson jailed for attacking police during riot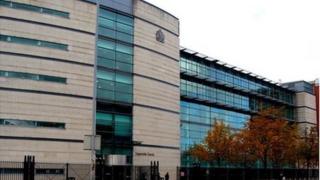 A former soldier has been jailed after he admitted attacking police during a riot in Belfast last summer.
Ryan William Robinson, 29, from Fernhill Grove, Belfast, pleaded guilty to rioting in Royal Avenue on August 9, 2013.
Disorder had broken out after a republican parade was blocked by a loyalist protest.
Robinson was sentenced to one year in prison and told he would spend a subsequent year on licence.
Belfast Crown Court heard that the defendant, who had spent two years in the British Army, was identified by a police officer as part of a loyalist crowd that attacked the PSNI.
The court was also told that he was seen pulling a hood over his face while he threw missiles.
58 police officers were injured during the disorder.
Robinson was arrested for rioting in January.
The court heard that during a police interview he admitted throwing the first missile while unmasked.
'Nasty, sectarian riot'
However, when accused of throwing seven other missiles, he said: "If you can't see my face, then I am saying it is not me."
Robinson's defence barrister said there was no explanation for his actions other than that he had been drinking earlier in the day.
He told the court that Robinson had a three-year-old child to a Catholic woman and that she had been baptised a Catholic.
The judge said: "How is he going to help her life in Northern Ireland? How is he going to see her if he is recognised by others from the other side where she lives?"
She added: "This was a nasty, sectarian riot. I do regard his participation in this riot as significant.
"He has a fatalistic attitude towards the inevitable but there is not going to be any change in attitude as long as people appear to think that their behaviour is justifiable."