Northern Ireland construction sector 'picking up pace'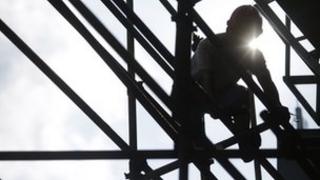 Recovery in the Northern Ireland construction industry is beginning to pick up pace, a survey of businesses has suggested.
The Purchasing Managers Index (PMI) is a monthly survey of a panel of firms that tracks indicators such as new orders, employment and exports.
It showed that in May, construction had its fastest rate of growth in more than 10 years.
However, that growth is coming off a low base, following a five-year slump.
The PMI data is produced by Ulster Bank.
Richard Ramsey, the bank's chief economist in Northern Ireland, said the figure for construction indicates a period of "catch-up from very low levels of activity".
He pointed to the last official figures which showed that the number of new houses being built was still falling in the last quarter of 2013.
Nevertheless, he said it was "encouraging" that the pace of business activity, new orders growth and job creation in the construction industry all increased at record rates last month.
He added that this may signal "a much needed upturn in the house building sector which is long overdue".
The recession in Northern Ireland, which was exacerbated by the bursting of a property price bubble, has had the greatest impact on construction.
The output of the industry has shrunk by more than 25% since 2007 and about one in three jobs in the sector have been lost.