Loyalist Willie Frazer cautioned over stun gun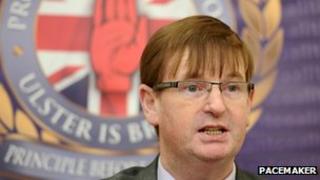 Loyalist campaigner Willie Frazer has accepted a caution for having a Taser stun gun at his home.
He consented to the warning at Belfast Magistrates' Court on Tuesday after prosecutors dropped a charge of possessing a prohibited weapon.
All criminal proceedings against Mr Frazer, 53, from Markethill, County Armagh, are now over.
However, he said he intends to sue the police for alleged false imprisonment.
Mr Frazer, who spent two weeks in custody on charges related to the union flag protests and the Taser gun, said he felt bitter and angry.
"I'm sick of being pushed around. All through the history of the Troubles, we never claimed a penny for the murders and shootings and bombings.
"But now this is the only path I have open to me for redress."
Mr Frazer, was one of the most high-profile figures brought before the courts following demonstrations over the decision to limit the flying of the union flag at Belfast City Hall.
He was accused of encouraging or assisting offences by a public address and of taking part in unlawful marches in January 2013.
Last month, the flag protest charges against him were dropped on the basis that there was insufficient evidence.
He had intended to contest the stun gun charge. He said he took it away from a group of youths to stop any trouble after he was asked to intervene by a parent.
Mr Frazer said he had also lodged a complaint with the Police Ombudsman's Office.
"Serious questions have to be answered because these charges were so ridiculous," he said.
"I'm not angry with the ordinary policeman, but with those higher up. When I was stopped for breaching bail conditions... somebody at a senior level was telling them to make the arrest.
"They can't pass the buck down the line to the man on the beat, the decision was made way above his head."