Kevin Concannon: Man admits string of terrorism charges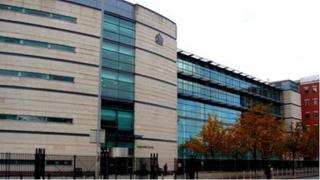 A 40-year-old man has admitted a number of terrorism related charges, including the possession of images of police headquarters in Liverpool.
Kevin Barry Concannon, from Beechwood Avenue, Londonderry, pleaded guilty to seven offences at Belfast Crown Court.
Among the charges, Concannon admitted collecting images of Merseyside Police headquarters between 25-28 October, 2012, for the purposes of terrorism.
He is due to be sentenced in September.
Concannon appeared in court earlier this year and pleaded not guilty to nine charges.
However, the defendant pleaded guilty to seven of the counts when he was re-arraigned earlier.
The defendant admitted four charges relating to the possession of several items, including a firearm magazine and blank cartridges.
He also admitted possessing a copy of the Anarchist's Cookbook, a de-activated sub-machine gun, a set of number plates, smoke canisters and a thunder flash pyrotechnic device.
Concannon also pleaded guilty to having an explosive substance, pentaerythritol tetranitrate (PETN), with the intent of enabling others to endanger life and having explosive substances - aluminium granules, a magnesium ribbon and metal springs - with the intent to endanger life.
The seventh charge relates to images he collected of Merseyside Police headquarters two years ago.
Two charges, connected to searches carried out at Concannon's house last June following a foiled dissident republican mortar attack in Derry, were left on the books.
Concannon was remanded back into custody and will return to court in three months time to be sentenced.