Racists 'threatened two-year-old girl' in west Belfast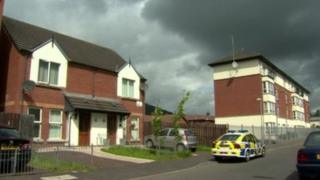 A man who was hurt in a racist assault in Belfast has said his attackers also threatened to "run over" his two-year-old daughter and burn down his house.
The 36-year-old man, who is black and originally from Nigeria, was attacked just yards from his home in Sliabh Dubh View in the west of the city on Monday.
He was on his way to work when a gang of "four to six people" verbally abused and then physically assaulted him.
A 19-year-old man was arrested on Tuesday night over the attack.
On Tuesday, hundreds of people attended an anti racism protest in the area.
'Terrifying'
The attack took place at about 20:30 BST on Monday as the man was on his way to begin a nightshift as a security guard.
The victim needed hospital treatment, including stitches to his upper lip.
Speaking to a BBC reporter, he described the experience as "absolutely terrifying".
He said that he passed the gang about 30 to 40 yards away from his home and they began shouting racist abuse, swearing and told him to "go back to your country".
The victim said he told the gang: "Excuse me, there is no call for that. Why would you be calling me names?
"Not everyone you see on the street you can call names. I said 'if you have no better things to do, just go and get a job. I'm going to my work'," the victim added.
He said the threats began when he picked up his mobile phone to contact his wife, who is originally from west Belfast.
'Racially-motivated'
He said that the gang believed he was calling the police and told him: "You know what Mr? We're going to burn your house down. If we see you with your wee one, we're going to run you down."
The victim said that he tried to back off and push the attackers away with an open palm but added that "before you know it - punches, blows, all stuff like that".
"They hit me with a bottle on my head, my hand. I was really, really terrified because there were loads of them, punches everywhere."
His wife, who ran to his aid with their daughter in her arms, said the gang were "attacking him from every angle".
"They were at his back, they were at his front, they were at the side of him," she said.
"He wasn't ringing the police. He was ringing me to go up, thinking if they saw me, a white person, they were going to back off a bit," the victim's wife added.
She said she had never witnessed anything like it and her husband said he was frightened of a repeat of the attack.
Police are treating it as a racially-motivated assault.
Two men, aged 25 and 32, were arrested but have been released on bail pending further enquiries.