Game of Thrones exhibition opens in Waterfront Hall, Belfast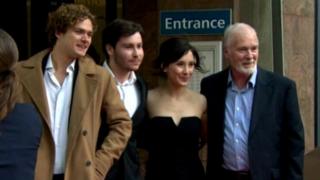 An exhibition of items from the TV fantasy drama Game of Thrones has opened in Belfast.
Nearly 100 original artefacts from seasons one, two and three, plus select pieces from the fourth series are on show at the Waterfront Hall.
Much of the series is filmed on location throughout Northern Ireland.
HBO's director of international marketing, Elena Lowenthal, said it was a homecoming for the items because they had all originated in Northern Ireland.
"It's our most watched series ever since The Sopranos, so it's incredible," she added.
"Having all of the items from the set of Game of Thrones at an exhibition where the fans can see it is incredible."
"But it's even more incredible to be here in Belfast, because it's a homecoming for all these items because they all originated here in Northern Ireland."
The chief executive of the Northern Ireland Tourist Board, Alan Clarke, said the show was giving Northern Ireland global exposure.
"It's really brought our tourism industry to life," he said.
"I suppose when you look at what New Zealand has done with Lord of the Rings, it really has re-profiled New Zealand.
"This really gives a big opportunity for Northern Ireland to build on the cult following that this has around the world."