Apple tax: EC to investigate Irish arrangements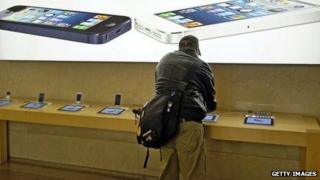 The European Commission (EC) is to open a formal investigation into Apple's tax arrangements with Ireland, the Irish state broadcaster has reported.
RTÉ said an announcement is expected to be made by competition commissioner, Joaquin Almunia, on Wednesday.
Last year, the EC began an information-gathering exercise into the tax arrangements for multinational companies in a number of countries.
These included Ireland and the Netherlands.
It came after a US Senate committee accused Ireland of giving special tax treatment to Apple.
This claim has been consistently rejected by the Irish government which said that its low corporate tax rate did not mean the country was a tax haven.
The European Commission is expected to look at whether the arrangements with Apple amount to an abuse of EU state aid rules.
Sanctions for a breach of those rules could include an attempt to claw money back from Apple.
The investigation will not look at Ireland's wider corporate tax system.