Farmer Steven O'Kane finds a wife thanks to a cow called Gorgeous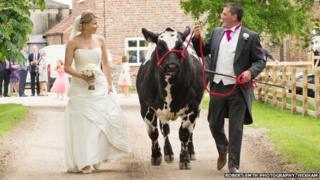 He was the farmer who found a wife, and it was all thanks to a prize cow.
Steven O'Kane, 31, from Garvagh, County Londonderry, stumbled on love with a little help from a friend called Gorgeous.
He has just married Katrina Donaldson, 24, from North Yorkshire, after his British Blue heifer caught her eye.
When he was given an embryo by a fellow breeder for one of his cows to carry and give birth to, he could not have dreamed what the future would deliver.
"It started off with Andrew Craig from Coleraine who gave me an embryo from his herd, Woodview British Blues," said cattle breeder Steven.
"I implanted it and I thought I'm going to have a heifer calf called Gorgeous and I did," he said.
But it was Steven's mother, Eileen, who made the magic really happen. She died last year, so did not live to see the results of her good advice.
"She told me she wouldn't be around to see about Gorgeous, but that Andrew had given me the embryo with luck.
"My mother said: 'Take Gorgeous across the water to the big shows and see how she goes'.
"I lost my mother in October past. But I hope she is happy because she always told me Gorgeous would bring me a lot of luck and a lot of happiness."
So, much like Jack and the Beanstalk, in this fairy-dairy tale, Steven set off on his adventures and showed Gorgeous all through northern England and he said she was never beaten.
It was last July in Yorkshire that Steven and Gorgeous met up with Katrina - and she fell instantly in love... with Gorgeous.
"Katrina is a livestock buyer and she spotted her and she wanted to buy her to start up a new herd," he said.
"I told her I would sell her Gorgeous on condition I could take her out on a date - I think she agreed just to get the heifer."
Before long, Steven knew his heart belonged in England and he went over to Huby, in North Yorkshire, for good.
"Whether I missed the heifer or I missed Katrina, I don't know," he joked.
"We built a big cattle shed and my father shipped the cattle from Ireland. Sam Milligan transported them from my home in Garvagh over to our new house in Huby."
The happy couple got married on 31 May, but Gorgeous could not get a pass for the church. She was banned lest she dig up the lawns, but she had a starring role at the reception.
"Gorgeous had to be there, this is me and Katrina's baby, she's our angel. We're a team in that as well," said Steven, speaking from New York, where he and Katrina are on honeymoon.
"Gorgeous is a true gem," he said.
"I can ask her to lift a foot and she does. She loves Coke and she'll drink that every day, she's not allowed that 'til the summer time," he added.
Katrina and Steven are looking forward to happiness and love that lasts for heifer and heifer.