Frank Carson: BBC documentary reveals man behind comic
He was known for his larger than life stage persona and catchphrases such as "It's a cracker" and "It's the way I tell 'em".
Now a new BBC documentary gives a unique insight into the private life of Frank Carson, the man behind the comic.
It has come about because Frank's son, Tony, discovered a box of tapes in his father's holiday home in Spain after the Belfast-born comedian died in 2012.
The tapes amount to about 16 hours of private recordings.
In them, Carson candidly considers his life and long career in show business
In the BBC Radio Ulster programme, Frank Carson: My Father, His Voice, his son talks about the revealing recordings, which have never been previously broadcast.
He shares deeply personal thoughts and memories of his father.
Tony said: "When I first discovered the box of tapes in father's place in Spain, I wasn't sure what to expect but couldn't wait to hear them.
"He had often talked about writing the book Rebel Without a Pause. Was this it? Or was it just more of 'the way he told them' again and again?
"To hear my father - Pops as I called him - speak at a deeper level than the comedian we all loved was deeply moving and thought provoking.
"Where did all that come from?"
Frank Carson was one of Northern Ireland's best-loved comedians.
Rising to fame through television appearances in programmes such as Opportunity Knocks and The Comedians, Carson soon became a household name and regularly performed in front of members of the Royal Family.
The intimate and confessional recordings give a rare insight into Carson's thoughts about his upbringing, his faith, his insecurities and his relationship with his family.
At one point in the tapes Carson says: "Unfortunately I'm a workaholic, much to the disgust of my family.
"They are all dedicated to me, each and every one of them.
"None of them have ever told me to chuck it. How can you stop making people laugh? They've done well on me, all of my family have made an awful lot of money, thanks to daddy starting them off.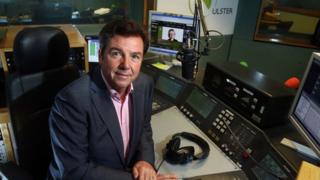 "But I don't know if they ever appreciated that or not. They probably will do when I'm gone."
The documentary also features some classic clips of Frank, the comedian, in full flow.
Tony tells the documentary: "I thought that, one minute I was very lucky to have a famous father, and the next minute I was sort of pilloried with this eejit who was making a mess of my (street) cred as a young man.
"It was surreal, it was embarrassing, it was enjoyable, it was frustrating, it was every adjective you could put to it to have a father like Frank Carson."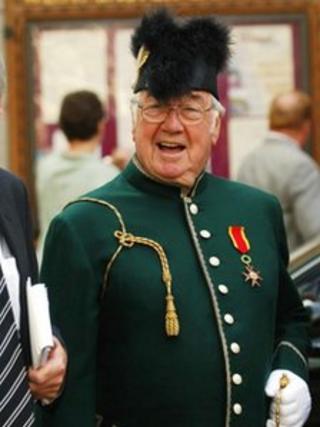 Ian Dougan, who produced the programme, said: "'Naturally, I had listened to all the tapes prior to Tony Carson hearing them for the first time.
"I knew that it would be an emotional experience for him, as the tapes are a mixture of nostalgia and some surprising insights into the showbiz and private life of his father.
"I am certain that these tapes will offer up sides to Frank Carson that people have never heard before."
Carson continued to perform into his 80s until his death, aged 85, at his home in Blackpool.
Survived by his wife Ruth and children Tony, Majella and Aidan, Carson's funeral was held in the same Belfast church where he had married his wife 60 years previously.
Referring to the tapes, Tony said he enjoyed listening to them, adding: "It's the turn of the people of Northern Ireland to experience Pops' inner self. I hope they enjoy it nearly as much as I did."
Frank Carson: My Father, His Voice, BBC Radio Ulster, Sunday, 15 June at 13:30 BST and repeated Thursday, 19 June at 19:30 BST and online at bbc.co.uk/radioulster