Cork air crash deaths accidental, says inquest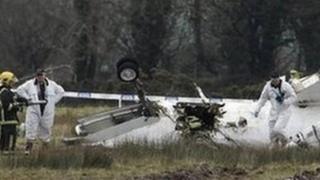 An inquest into the deaths of six people in a plane crash at Cork airport three years ago. has returned verdicts of accidental death.
The coroner told jurors they were entitled to conclude fog at the time of the crash was a significant factor.
He said it could also conclude from the evidence the pilots were doing their level best to land the plane safely.
He told the jury that, if it agreed, then a verdict of accidental death was possibly the only one open to them.
The 19-seater plane was on its way from Belfast, with ten passengers and two crew, when it crashed in dense fog after failing to land on its third attempt at Cork Airport.
The six who died were Michael Evans, Brendan McAleese, Pat Cullinan, all from Northern Ireland, Richard Noble from Yorkshire, pilot Jordi Gola Lopez, from Spain and Andy Cantle, from the north east of England.
Six passengers survived the crash.