BTW Shiells sold to London-based firm Lambert Smith Hampton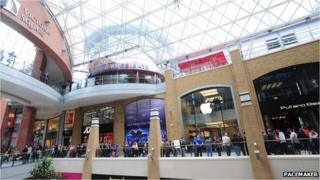 One of Northern Ireland's largest estate agents, BTW Shiells, has been sold to a London-based firm.
Lambert Smith Hampton (LSH) paid an undisclosed sum to take over the agency which employs 75 people.
BTW Shiells was previously part of LSH until a buyout by local management in 2003.
Ezra Nahome, chief executive of LSH, said the deal strengthened the firm's presence across the island of Ireland.
He identified the non-performing loan portfolio market as a particular opportunity.
LSH recently advised Cerberus Capital Management on its acquisition of the Irish National Asset Management Agency's (Nama) Project Eagle portfolio of Northern Ireland loans.
BTW Shiells has also been involved in a significant number of Nama deals over the last two years.
The company is also one of the largest managers of shopping centres across the UK and Ireland, with more than 8m sq ft of space under management including the Victoria Square shopping centre in Belfast.
It also operates in the domestic house sales market but that part of the business has not been bought by LSH.
It is being spun off as separate firm called Simon Brien Residential which will employ 42 staff at three offices.