Racism in Northern Ireland: Paper sets out equality plan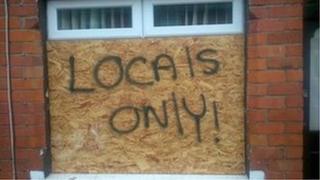 A long-awaited draft paper setting out the strategy for racial equality in Northern Ireland has been obtained by BBC NI politics programme, The View.
It states that racism in NI was shaped by the Troubles and sectarianism.
The conflict created patterns and attitudes that are now impacting on minority communities, the authors said.
There would continue to be "unresolved tension" so long as Westminster insisted on a "one size fits all" approach to immigration, they said.
"We acknowledge the link between sectarianism and racism, and we recognise that we cannot hope to tackle one without tackling the other," the authors said.
"The executive will continue to work towards an immigration policy that recognises and takes account of our different needs and concerns here."
The draft report said that figures for racially motivated crime have increased over the past two years.
It added that positive action must be taken and that there is a strong case for a separate strategy to help refugees integrate in Northern Ireland.
The report follows calls from politicians to "get serious about sectarianism and racism" and publish a plan.
Jennifer McCann, Sinn Féin, told the assembly on 3 June that a defined policy on racial equality would help address the recent wave of racist attacks in Belfast.
Anna Lo, Alliance Party, said she was "sick and tired of condemning racist attacks".
"All of us need to stand together to fight racism," she said.
The draft report is called: A Sense of Belonging - Delivering Social Change through a Racial Equality Strategy for Northern Ireland 2014 - 2024.
It was prepared by the Office of the First and Deputy First Ministers and sets out six "shared aims" to combat and eliminate racial inequality in Northern Ireland.
These are:
Elimination of racial inequality
Combating racism and hate crime
Equality of service provision
Participation
Social cohesion
Capacity building
A DUP source told The View the party is happy to have the strategy paper go out for consultation and all that needs to be added is a ministerial foreword.