Belfast sex attack by accused soldier lasted 17 minutes, court told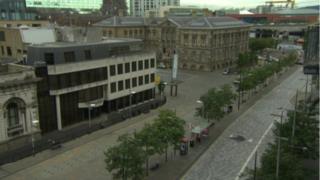 A soldier allegedly subjected a woman to a sex attack in a Belfast city centre doorway lasting more than 17 minutes, the High Court has heard.
Ryan Fairlamb, with an address at Ballykinler Army Camp, County Down, is accused of raping a woman near Custom House Square on 31 May.
Prosecutors said he was captured on CCTV forcing the victim to the ground as she tried to fight him off.
He was granted bail to stay with his parents in England.
Mr Fairlamb is also charged with attempted rape, common assault and two counts of sexual assault.
The court heard the alleged victim was discovered in a doorway of apartments at Ulster Street.
In her account to police, the woman said she met the accused in a city centre nightclub.
The woman said they had left together and kissed on a bench, before arranging to go back to where Mr Fairlamb was staying.
'Prolonged attack'
The prosecution said Mr Fairlamb then pulled her into the doorway and forced himself on her.
A medical examination was said to have identified fresh injuries and bruising, indicating that she was restrained.
Mr Fairlamb was then arrested after the woman described the man she claimed to have raped her, including his tattoos and occupation.
A prosecuting lawyer said: "CCTV covering the relevant doorway was seized and covered the entire prolonged attack, that lasted in excess of 17 minutes.
"The attack only stopped as two males approached the apartment block.
"It's alleged the applicant gets up, fixes his trousers and runs off in the direction of Tomb Street."
'Struggling'
The court heard that Mr Fairlamb was interviewed 14 times during two days in police custody and, at first, claimed the sexual activity was consensual.
However, after being shown the CCTV footage he then said he realised halfway through that the woman was being overpowered.
The prosecutor added: "He stated in interview at this point he had a mindset of having sexual activity and continued with that despite her struggling.
"In her case, the only consensual activity was the kissing."
The prosecutor opposed bail and said there was a risk the accused could go absent without leave because of the case's potential impact on his military career.
A captain in charge of the accused told the judge he would have no authority to hold Mr Fairlamb if he decided to leave an Army camp.
The judge ruled that the accused should be granted bail to stay with his parents, on the condition they lodge a cash surety of £4,000.
He also imposed a night-time curfew and an alcohol ban.