How easy is it to get to Giants Causeway using public transport?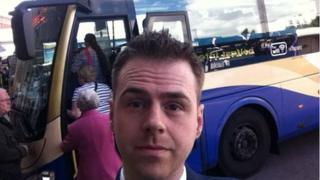 A debate on public transport in the assembly on Monday has heard MLAs back a call for improved transport infrastructure on Northern Ireland's north coast.
The DUP's George Robinson proposed his party's motion and was backed by Sinn Féin's Daithi McKay who said the area had "huge potential for tourism".
He noted that there were only two buses a day along the coastal route that he said was supposed to be one of the most beautiful road journeys in the world.
The motion called on Regional Development Minister Danny Kennedy to "invest in the transport infrastructure at, and leading to, the north coast to assist the commercial, commuter and tourist sectors of the economy".
The issue was discussed on the same day that the Royal Portrush golf course was confirmed as the venue for the world's biggest golf tournament, the Open Championship, possibly in 2019.
It is hoped thousands of tourists will be drawn to Northern Ireland from across the globe.
So how easy is it to get from Belfast to the Giants Causeway using public transport?
I wrote a diary of my bus journey:
11:40 And my bus journey to the Giants Causeway has begun. The man at the ticket counter told me to take the bus route 252 from the Europa Bus Centre to Coleraine and then get from there to the world heritage site - sounds simple. Oh, and it cost me £11.50 one-way.
11:45 - My bus to Coleraine is bang on time. Here we go then.
12:22 - Stopping off at Antrim Bus Station. All going well apart from the lad behind me playing tsk tsk tsk music behind me. It sort of ruins the sunny view. On schedule though.
12:32 - Gladys and Estelle are going to Ballymena. Estelle says she has used this route before, but has never gone as far as the Giant's Causeway. She says the bus is always on time and fast enough for her. Gladys says she likes the air conditioning and the driver.
12:45 - Made it to Ballymena Bus Station. Chris and Erica have just got back from two years exploring Asia and Australia. After Vietnam this bus is a luxury. They are going to Coleraine. Chris says he used to struggle with buses before he left for his adventure, but this route seems pretty good. Erica can't talk because she has to finish her book.
13:00 - Translink's ears were burning. They just called to see how my journey was going. They tell me there's a special guide for the north coast that I can pick up in Coleraine. Oh, and apparently I could have paid £15 for an 'iLink' ticket which would have given me access to all public transport all day across Northern Ireland. The man behind the glass didn't mention that. I guess I didn't look like a tourist in my suit.
13:20 - I've been on the bus for just over an hour and a half. The bus emptied out at Ballymena, but then filled up again in Ballymoney. I'm still the only one going to the Giant's Causeway though.
13:40 - I have made it to Coleraine. The journey has taken about two hours so far. Time for a quick stop then the shuttle or Causeway Rambler bus to the Giant's Causeway, but when is it? I'll ask.
14:16 - My first bus to Giant's Causeway is the 172 at 14:40. I met Ketsuke Tant who's just arrived here from Tokyo. He's a bit confused by the timetables and wishes they were simplified and in colour like the London Tube maps!
14:40 - After a 45-minute wait Ketsuke and I managed to catch the 172 bus to Ballycastle which stops at Giant's Causeway. Three hours so far. Slow perhaps, but punctual and very friendly drivers.
14:50 - Very happy to be held up for a moment by a lollipop man so the children can leave school safely. Perhaps the first time in my life a delay has made me smile.
15:01 - Beautiful views making the long journey much easier as we pass through Portballintrae.
15:14 - I've arrived at Giant's Causeway after around three and a half hours travelling. Services were on time, but is there a case for a quicker, more direct route to the north coast? It's a slow journey for a relatively short distance.
It's a question that was asked today at the Northern Ireland Assembly. I wandered down to the ancient stones. For them, three and a half hours was nothing at all.