Gerry Kelly: SDLP thwarts move to suspend Sinn Féin MLA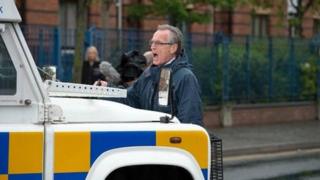 The SDLP has thwarted an attempt to exclude Sinn Féin's Gerry Kelly, from the assembly for five days.
The Stormont Standards Commissioner found Mr Kelly had broken his duty to uphold the rule of law and to provide leadership when he confronted the driver of a police Land Rover in north Belfast last June.
He was carried a distance on the bonnet of the vehicle.
The majority on the Stormont committee recommended Mr Kelly be excluded.
But Alban Maginnis, SDLP, felt he should have been given the opportunity to apologise.
"The report coming to this house clearly states there was a breach. The report highlights and underlines that the penalty for that should be five days suspension," he said at Stormont on Monday.
"That is something which I believe, and which my party believes, is excessive."
Mr Kelly accused unionists of being hypocritical over the proposed punishment. He said he would continue to maintain the flexibility to do what he thinks is right in any situation.
Earlier, three SDLP MLAs signed a petition of concern together with Sinn Féin that meant the proposed exclusion would not get the necessary cross-community support.
Tour of the North
The exclusion was backed by unionist MLAs on the committee, but opposed by Sinn Féin MLAs.
Mr Kelly, a MLA for North Belfast, accepted a formal reprimand in January from police in relation to the incident.
A police officer was reprimanded for his part in the incident.
A month later, he announced he was dropping his lawsuit against the police over the incident in north Belfast.
It happened in Carrick Hill last June, following the loyalist Tour of the North parade.
At the time of the incident, the Sinn Féin MLA said he tried to stop the Land Rover in order to speak to officers who had arrested a 16-year-old boy, but he claimed the officer drove off with Mr Kelly clinging to the front of the PSNI vehicle.
The SDLP said it helped block moves to suspend Mr Kelly from the assembly because he should have been given the opportunity to apologise.
The party said all of its assembly members would be joining Colum Eastwood, Dolores Kelly and Pat Ramsey in signing a petition of concern to block the sanction.