Death records to be checked to tackle travel pass fraud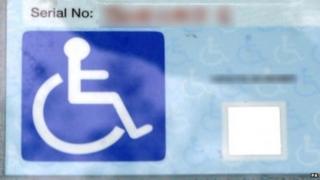 Death records are to be checked on a monthly basis in a bid to tackle potential fraud related to pensioners' travel passes and free-parking badges.
A report by the NI Audit Office (NIAO) has revealed that almost 10,000 travel passes were still in circulation after the holders had died.
This means they could be used fraudulently.
More than 5,000 Blue Badges, entitling the holders to free parking, were also in circulation after owners' deaths.
The NIAO said all the passes and badges have now been cancelled and no frauds had been confirmed.
Cross-checking
The public transport company, Translink, has now entered into an agreement with the General Register Office in Belfast (GRO) to receive death records on a monthly basis
The Department for Regional Development (DRD), which administers the Blue Badge scheme, has also agreed a monthly information sharing arrangement with the GRO.
The details came to light as part of the National Fraud Initiative which involves public bodies cross-checking information held on their databases.
Between April 2012 and March 2014, it identified £5.5m in fraud and error through data matching.
Most of that sum, £3.2m, related to pensions, with 75 cases of fraud or error identified.
In one case, a pensioner died in February 2012 but in March 2013 the pension-paying body received a declaration of entitlement that purported to come from the pensioner.
On investigation, the pensioner's son was suspected of fraud and convicted in February 2014. The overpayment amounted to £3,300.
Other investigations identified housing benefit fraud and overpayment of £1.6m, rates evasion of £350,000 and supplier overpayments of £102,000.