Two viable pipe bombs found in Strabane cemetery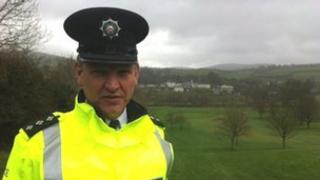 Police investigating dissident republican activity in Strabane, County Tyrone, have said they have discovered two viable pipe bombs in a cemetery.
The discovery was made during a search in the Strabane area on Monday evening.
It came a day after a police spokesman said two suspected handguns and a number of suspected petrol bombs were found in the area.
Chief Inspector Andy Lemon said: "These finds are linked."
He added: "They were found in a hedge row in a cemetery, which is very worrying.
"They were two viable devices with the potential to kill or maim.
"There was a real risk of loss of life.
"I'm glad we have them because it means we are protecting life.
"I'm worried that people in Strabane think they can do this. I believe they are linked to dissident republican activity.
"They were either aimed at the public our ourselves.
"I'm very concerned about dissident republican activity in Strabane."