Frank Newell 'vindicated' after court quashes conviction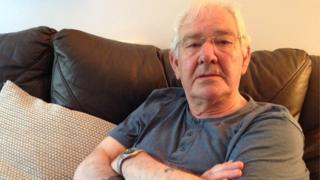 A man who won a 40-year battle to clear his name has said a lie he told police investigating an armed robbery led to him being wrongly jailed.
Frank Newell, 73, from Shankill Road in Belfast, was originally sentenced to four years in prison for the post office robbery in Lisburn in 1973.
His jail term was doubled when a first appeal was thrown out.
His taxi had been hijacked by the UVF, and afraid of his family being harmed, he told police it had not been stolen.
Mr Newell said: "I told one lie and it got deeper and deeper."
He had only begun working at the taxi office when his vehicle was stolen outside the building. When the car was later found abandoned, he picked it up and continued working.
"If I'd have said the car was taken from me it would have been impounded, I'd have been out of a job," he said.
"The first thing I said was, 'no, the car was with me'."
Mr Newell continued to protest his innocence, and in 2008, an unconnected case gave him hope.
He went to the human rights group, the Committee on the Administration of Justice.
"That was five years ago and they did a great job," he said.
His case was referred back to the Court of Appeal after being studied by the Criminal Cases Review Commission, a body that examines potential miscarriages of justice.
On Monday, senior judges quashed his conviction based on the non-disclosure of crucial material that undermined the prosecution case.
Defence lawyers argued that police and the prosecution failed to disclose three categories of information during the non-jury trial.
These included:
Details of an alibi statement from colleagues placing Mr Newell at his taxi depot on the day of the robbery
Discrepancies in witness identification statements
Police intelligence pointing to both his innocence and to the real culprits having connections to the loyalist paramilitary group, the Ulster Volunteer Force (UVF).
His barrister pointed to evidence dating to the 1970s that showed high-ranking police officers believed Mr Newell was innocent.
"You have significant body within the RUC (Royal Ulster Constabulary) and beyond expressing concern about the safety of the conviction, but nobody seems to take the next step," the barrister told the court.
The panel of three judges allowed the appeal. Full written reasons will be given at a later stage.
Mr Newell said he had been "vindicated".
"Anybody that knows me knows that I didn't do this," he said.
"A senior judge said it should never have come to court, I should never have been convicted.
"I was over the moon - the family is delighted. It is the best thing that has happened to me in 40 years."