Gerry Kelly: Suspension vote blocked at assembly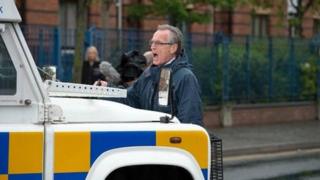 Assembly members have voted to suspend Sinn Féin's Gerry Kelly for five days.
They backed a proposal from the assembly's Standards and Privileges Committee by 56 votes to 37.
However, the move has been blocked after Sinn Féin and SDLP members signed a petition of concern.
The committee suggested suspension over an incident last year in which Mr Kelly was carried on the front of a police Land Rover in north Belfast.
It found that the North Belfast assembly member had broken the MLAs' code of conduct.
By signing the petition of concern on Monday, SDLP members ensured the proposed exclusion would not get the necessary cross-community support.
Mr Kelly, a MLA for North Belfast, accepted a formal reprimand in January from police in relation to the incident.
A police officer was reprimanded for his part in the incident.
A month later, he announced he was dropping his lawsuit against the police over the incident in north Belfast.
It happened in Carrick Hill last June, following the loyalist Tour of the North parade.
At the time of the incident, the Sinn Féin MLA said he tried to stop the Land Rover in order to speak to officers who had arrested a 16-year-old boy, but he claimed the officer drove off with Mr Kelly clinging to the front of the PSNI vehicle.
The SDLP said it helped block moves to suspend Mr Kelly from the assembly because he should have been given the opportunity to apologise.