Joe Foster: The man who escaped three disasters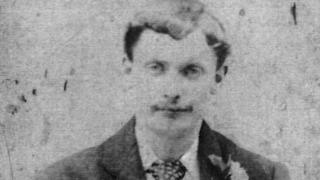 A World War One veteran who lived through the Battle of the Somme also narrowly avoided boarding the Titanic and survived Ireland's worst ever rail disaster.
Armagh man Joe Foster made three remarkable escapes, starting when he set out for a trip to the seaside with Armagh Methodist Sunday School as a 12-year-old.
That day was to end in tragedy with the Armagh train disaster, the 125th anniversary of which was commemorated last week.
The train had just set off when a young pal asked Joe to swap seats shortly into the journey.
Joe agreed. A short time later came the awful collision that was to claim 89 lives, including Joe's friend sitting in the seat that originally had been his.
The young Joe escaped with a broken arm and terrible memories of the carnage that he would carry all of his life.
His granddaughter, Daphne Weir, reflected on what the young boy had experienced close to the scene of the accident near Armagh.
"It's so peaceful here, where we're standing today," she said. "But just imagine 125 years ago what that field behind us would have been like, with the smell of burning and carriages wrecked and people screaming.
"People came out from the city; if they hadn't got a cart or a pony and trap to bring the injured in, they used wheelbarrows or just whatever they had to bring people to get medical help."
Eventually Joe, one of a eight children, with a widowed mother, recovered from his broken arm and trained to be a tailor, like his father before him.
He built a successful business in Armagh but, in 1912, felt the best way for him to further his career would be to travel to America.
He had heard about a new ship, on which he decided he would sail. Its name was Titanic.
But, for the second time, fate - or providence - was to intervene.
Joe's mother took ill, he was forced to change his plans and, late in the day, a disappointed Joe found himself unable to travel on the boat that sank on its maiden voyage, with the loss of over 1,500 lives.
Four years later came the First World War and the brutal, mechanised slaughter of the Western Front.
Despite being almost 40-years-old, Joe signed up for the Royal Irish Fusiliers and found himself with the 36th Ulster Division at the Somme.
The opening day of the battle saw the worst losses in a single day in the history of the British Army.
Some 60,000 men were dead, or wounded, captured or missing. Few of those from Armagh who signed up were to survive.
But Joe did. For a third time, he had come face to face with historical disaster and for a third time he had walked away. But the psychological scars this time were deep indeed.
"As a child, my mother would ask him questions about various things," said Daphne. "He talked a wee bit about the railway disaster, but he never really talked about his experiences in France. He just found it too painful."
Joe was demobbed in 1919. He died in 1932, of natural causes, aged 55, leaving six children and a remarkable story of destiny and determination.