CCTV operator, Ciaran McCleave, on trial for spying on woman's flat in north Belfast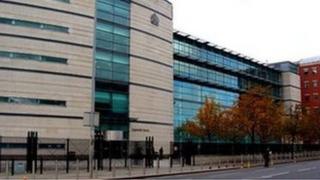 A CCTV operator has gone on trial accused of training a police camera, used for monitoring an interface area, into a young woman's living room.
Ciaran McCleave, from Collinward Gardens, Newtownabbey, faces eight charges which he denies.
He is charged with one count of misconduct in a public office, one count of voyeurism and six counts of attempted voyeurism.
The offences allegedly took place from 20 October to 20 November 2012.
According to the prosecution, Mr McCleave used a camera - whose default was normally set to a junction on the Whitewell Road and Shore Road in north Belfast - and directed it into the woman's first floor apartment for a total of 79 minutes over a 26-day period.
Belfast Crown Court heard that on one occasion, the woman was viewed walking around her living room in her underwear after coming out of the shower.
Outlining the Crown case against Mr McCleave, a prosecuting lawyer said the alleged offending came to light in November 2012.
Mr McCleave - who at the time was a CCTV operator employed by Resource - was one of a number of operators who sat in a pod in front of a bank of 48 cameras at Antrim Road PSNI station monitoring areas in both north Belfast and the city centre.
During a 12-hour shift, each operator was tasked to write down and alert the police of any unusual activity they witnessed on the screens, as well as filing out log sheets about when they worked and which pod they sat at.
The prosecution lawyer told the jury that operators wishing to examine screens more clearly could zoom in using a joystick, and that only one operator at a time could use the joystick to look at a screen.
Private dwelling
She told the court that on the afternoon of 12 November 2012, a colleague of Mr McCleave's returned to pod one after being at the gym, and after checking several other cameras, he then dialled up camera 17 - the camera which overlooked the Whitewell Road and Shore Road junction.
The lawyer said the colleague "turned to glance at the camera" and immediately noticed that instead of being pointed at the normal interface area, it was "directed in a window of, clearly, a private dwelling somewhere within the scope of camera 17".
Upon further investigation, the colleague discovered that this camera was being operated and monitored from pod three, where Mr McCleave was sitting, and the same image was displayed on that pod.
Giving evidence at the trial on Tuesday, the colleague told the court he was "shocked" by what he had seen, adding: "I haven't seen anything in my time where something has been so intrusive."
The colleague was so concerned by what he saw that he contacted his union representative, who then reported the matter to police.
A subsequent investigation was launched, part of which involved identifying what shifts Mr McCleave had done and which pod he had been working from 20 October to 15 November 2012.
The prosecution lawyer said officers also examined footage that was "attributable" to Mr McCleave, and it was the Crown's case that he viewed the woman's flat "for a period of almost 79 minutes over a 26-day period".
She said other footage attributed to Mr McCleave over that period included the young woman "going about her business" in the flat and out on the street as well "concentrating" on other women.
The jury heard one of the counts of attempted voyeurism against Mr McCleave was on 14 November 2012 - which the Crown said was two days after he "struck lucky" by seeing her in a state of undress after coming out of the shower.
Abuse of position
The prosecution lawyer alleged in court that Mr McCleave was training the camera into the woman's flat and invading her private space "for one reason and one reason only ... for his own sexual gratification".
She also said that whilst doing this, instead of checking flashpoint areas or catching out criminal activity, he was "deliberately and willingly" abusing his position, and not acting as one might expect from a "fully-trained professional man of integrity".
The court heard Mr McCleave was arrested on 20 November 2012 and was interviewed on a number of occasions.
He told officers he might have looked into her flat as it was believed to be a party house and there may have been a man dealing drugs from the premises.
He also told officers he had never been instructed or directed by the police to place the property under surveillance, and that he knew he was not meant to be looking into private properties as to do so was contravening their privacy.
When asked about the incident on 12 November when the woman was seen walking round her apartment in a state of undress, Mr McCleave said he had gone to make a cup of tea, he must have left his monitor on and suggested that he did not have control of camera 17.
The female occupant, who has since moved from her flat, said she was contacted by police about the alleged offences last January.
When she was informed of the allegations and shown images taken from CCTV footage from her flat, the woman said was very upset.
She told the jury: "Since that day, I just constantly kept my blinds and curtains closed and I didn't leave the house unless I had to go to work."
She also revealed she was still undergoing counselling.