PSNI memorial garden: Award for architectural excellence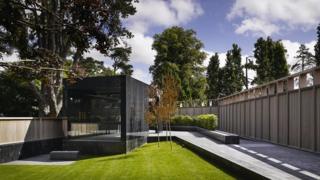 The Police Service of Northern Ireland's memorial garden has won a national award in recognition of its architectural excellence.
The garden lies within the grounds of the PSNI's headquarters on Knock Road in Belfast.
It is one of 56 buildings to receive the award from the Royal Institute of British Architects (RIBA).
The garden was designed by NI architect firm Hall McKnight and was completed in November 2012.
RIBA president Stephen Hodder said: "This year's RIBA National Award winners show that exceptional architecture can be found anywhere: on any high street, in any village or town, and with any budget.
"Good architecture always begins with a committed client.
"It is extremely heartening to see in this year's crop of winners, the increasing recognition, notably in the public sector, of the vital role of good design in attracting visitors, students and clients and of the dramatic influence that a beautiful building has on communities and pride.
"These buildings show the challenges that can be overcome with pure architectural creativity... It is evident that each building on this year's list has been a labour of love but worth every penny and effort."
The buildings will go into the shortlist for the RIBA Stirling Prize, for the best building of the year