CVS Caremark: 100 jobs created in Belfast IT centre expansion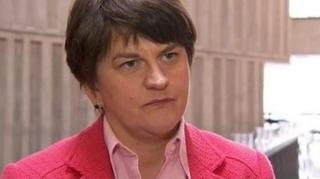 American health company CVS Caremark is to expand its Belfast IT centre with the creation of 100 new jobs.
The offices, opened in 2012, look after computer software, including the firm's mobile and tablet apps for services like prescription orders.
CVS is the 13th biggest company in the US, with more than 7,000 chemist shops.
The jobs will pay average salaries of £33,000 and bring the local workforce to 150.
In 2013, the company had a revenue turnover of $126bn (£74bn).
Invest NI is supporting the jobs with £725,000 in grants.
Enterprise Minister Arlene Foster said without financial support, CVS could have created the jobs "anywhere".
She added: "I am proud we have been able to land this project."
Corporation tax
The project would not have qualified for the Invest NI aid under new European rules due to come into force on 1 July.
The rules will place limitations on grants to large companies. CVS employs more than 200,000 people.
Ms Foster said: "This is why we need corporation tax devolved.
"We are continuing to press the Treasury to give us this competitive advantage. We are hopeful that it will be a positive decision."
Westminster has promised a decision on the issue after the Scottish referendum in September.
The Northern Ireland Executive wants to compete better for big investment projects with the Republic of Ireland, where corporation tax is 12.5%.
It is 21% in the UK.