Chester Nursing Home: Daughter 'riddled with guilt' over father's death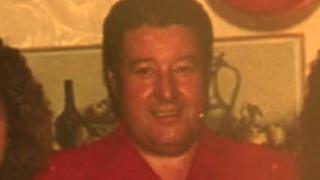 A woman whose father died in a nursing home says she is "riddled with guilt" after finding out numerous regulations were breached months before he died.
Bobby Wilson's family said a catalogue of errors in his care at Chester Nursing Home, Whitehead, included the inappropriate use of diazepam.
Regulations were breached over 100 times at the County Antrim facility before enforcement action was taken.
The home's owners said the breaches did not affect the 78-year-old's care.
The Wilson Group said the care that the pensioner received at the County Antrim home was entirely appropriate and was delivered to accepted professional standards.
The breaches were revealed in a BBC investigation.
Mr Wilson's family has accused the Regulation and Quality Improvement Authority (RQIA) - which regulates the health sector - of failing to react quickly enough to its own inspections.
They have also called for tougher sanctions on nursing homes that repeatedly fail inspections.
According to his family, there was a catalogue of errors in their father's care, including inappropriate use of diazepam, a prescription drug used mainly for anxiety.
An ambulance called to the home on the day he died was also delayed by several hours.
Speaking to the BBC, Mr Wilson's daughter Kim said: "I think about him every day and I am riddled with guilt because I should have been alerted to all this sooner.
"It wasn't until he died and we started to investigate what happened - the more questions we asked, the worse things got.
"The case became more horrific because of the diazepam, the bruising, the accidents and there was a delay in the ambulance attending the day he died."
In 2011, Bobby Wilson was diagnosed with dementia. In November that year, he was admitted to the privately owned Chester Nursing Home for respite care.
After six weeks in the home, Mr Wilson took a chest infection and died.
Unanswered questions
Mrs Wilson said if her family had known about the nature and the number of breaches of regulations by the home, they would have insisted on him being nursed elsewhere.
She said: "I thought that when my father was being taken away to the nursing home, the social worker would have chosen this place because of his condition and his needs would be met there.
"But it wasn't until after his death we became aware that it doesn't work like that. It is just where they can get him in."
Mr Wilson's grandson, Dean Acheson, who is awaiting the outcome of a lay person's report into his grandfather's care, said there are many unanswered questions.
According to the family, the Health and Social Care Board has postponed publishing the report on at least three occasions.
The Health and Social Care Board said it had been providing assistance to the family through the Health and Social Care (HSC) complaints procedure since July 2013.
The HSC complaints procedure allows for independent lay people to be appointed to consider complaints.
The HSC said the lay person, who was assisted by two independent clinical advisers, had full access to all complaints correspondence and to Mr Wilson's clinical and professional records - these were made available to the family in March.
The Health and Social Care Board said the lay person's report when finalised would be given to the family and relevant HSC organisations at the earliest opportunity.
Mr Acheson said: "He was put in there (Chester Nursing Home) for two weeks' respite to give my granny a break - not to be carried out in a body bag five weeks later.
"It was not his time to go. I won't stop until I get to the truth about what happened to my granddad."
In March 2011, a scheduled RQIA inspection of Chester Nursing Home triggered 11 requirements and six recommendations.
Breaches
Six months later, the inspectors had to issue another 15 requirements. Four further recommendations were also made.
While the inspectors acknowledged that the atmosphere in the home was friendly, caring and courteous, other issues were not "satisfactory".
Inspectors noted that care plans belonging to several patients were not completed. Some of those patients had dementia.
Other breaches included:
while staff had raised concern about a patient's unexplained bruise, there was no evidence to suggest it had been investigated properly
patient care records required updating; some lacked detailed information about responses to challenging behaviours and hadn't been signed off by nursing staff
just over half of staff had been fully trained in infection prevention control or in dementia care
gloves and aprons were not changed in between treating patients
A number of issues that had been raised in previous inspections, including in 2011, remained unaddressed. These included training in dementia and inadequate bathing and showering facilities.
Dean Acheson has accused the RQIA of being too lenient.
"Even if they do the inspection, they don't do anything about it. Nothing comes of it. It's just a warning and another warning. But the home is still operating and taking new residents," he said.
'Over-medicated'
In a report following Mr Wilson's death, staff at the Chester Nursing Home confirmed that the pensioner had fallen out of bed, which may have caused bruising and fractures.
His daughter said: "From the very start, my daddy was restrained. He had 10 accidents within six weeks.
"He had bruising to his hands, a broken collarbone, he had numerous falls, a cup of tea thrown over him and was over-medicated on diazepam tablets. In fact, excessive amounts, which his doctor had advised he wasn't allowed."
Investigations of their father's records reveal he received 74 diazepam tablets during his six-week stay at the nursing home.
In confidential documents seen by the BBC, an independent assessor from another health trust acknowledged there was an inappropriate administration of diazepam to Mr Wilson.
The same report confirms that it was not clear why diazepam had been administered with other medications.
Among the recommendations are that it would be good practice to clearly record when the medication is administered giving precise reasons for doing so.
However, the same report also said that Mr Wilson's care and treatment was adequate and unlikely to have contributed to his death.
But Mr Wilson's GP, Dr Michael McGarry, has also raised concerns about his former patient's care, particularly the amount of diazepam that was given with other medication.
Dr McGarry had prescribed Mr Wilson diazepam only to be used to settle him into his new surroundings at the home.
Transferred
However, according to the pensioner's notes, he continued to receive the medication, sometimes twice daily.
Also, without notifying Dr McGarry, Chester Nursing home transferred Mr Wilson to a different doctor.
Dr McGarry told the BBC it would have been good practice for the nursing home to notify him that the patient was being transferred.
In his report to the Health and Social Care Board about the case, Dr McGarry said: "The medical notes indicate that it was my intention that the diazepam was to be issued short-term for transfer (into the home)."
While Mr Wilson's medical records indicate that he had been over-issued with diazepam, a subsequent investigation by the Northern Health Trust found this was not the case.
The family however insist that they regularly found their father sleeping and appearing "docile".
A report by the NI Ambulance Service also admits that there was a delay of several hours in sending an ambulance the day Mr Wilson died.
Continued to breach regulations
The service has apologised to the family for the delay and, as a result, is reviewing the management of GP urgent calls by Ambulance Control.
There have been 17 inspections at Chester Nursing Home since March 2011.
On average, nursing homes normally receive two inspections per year.
After failing to comply with several regulations, in February this year, the regulators took the very serious step of issuing the owner of Chester Nursing, Desmond Wilson, with a notice of decision to place conditions of registration on the service.
The home had continued to breach numerous regulations.
In response to the BBC's investigation, a spokesperson for the RQIA said last September it held a "serious concerns meeting" with the home's owners, highlighting the need for urgent improvements.
It said the conditions it placed on the home aimed to ensure it was properly managed.
The regulator said further unannounced inspections - including one this week - had noted improvements, but the enforcement action would remain in place until its inspectors were satisfied.
The BBC asked the owner of Chester Nursing Home, Desmond Wilson, to respond to the concerns raised by Bobby Wilson's family and the RQIA inspection reports.
'Fully compliant'
In a statement, the home said: "We can confirm that the care received by Mr Wilson was entirely appropriate and was delivered to accepted professional standards.
"We are co-operating fully with the Health and Social Care Board's complaints procedure in relation to this case and therefore it is not appropriate for us to make any further comment until the report is complete and its findings made public.
"There have been some regulatory breaches at Chester Care Home. We regret that these breaches have occurred and we have been fully co-operating with the RQIA in respect of them.
"Recent inspections have confirmed the progress made and we now believe that we are fully compliant with the vast majority of requirements and recommendations.
"These regulatory breaches were not related to, and did not affect in any way, the care received by Mr Wilson."
In a statement to the BBC, the Northern Health Trust said it was investigating a number of issues and complaints made by Bobby Wilson's family and that this was still ongoing.
The Commissioner for Older People for Northern Ireland, Claire Keatinge, said: "Unfortunately this is not the first case in which it has been found that older people are being let down by those charged with providing their care.
"Failures of care homes to meet the required standards show a callous disregard for the lives of the older people who live in them.
"As a society which values its older people, it is essential that we ensure that those who are vulnerable are given the reassurance that they will be looked after in their time of need, and that they can be confident that they will be able to live dignified lives, wherever they live."