Ciaran McCleave trial: Court hears CCTV use on homes considered 'intrusive'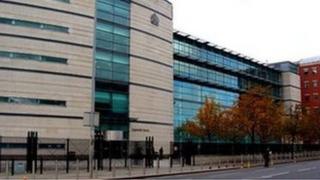 The trial of a CCTV operator accused of using cameras to look into a woman's apartment has been told by a fellow operator that training cameras on homes was considered "intrusive".
Ciaran McCleave, 50, from Collinwood Gardens, Newtownabbey, was based at Antrim Road police station in north Belfast.
He faces one count of misconduct in a public office, one count of voyeurism and six counts of attempted voyeurism.
He denies all the charges.
The offences allegedly took place from 20 October to 20 November 2012.
The prosecution alleged that Mr McCleave trained a camera into the woman's living room for about 20 minutes on the afternoon of 12 November 2012 for his own sexual gratification.
Earlier, a union representative, who worked in the CCTV monitoring room at the same police station, told a jury that training cameras on homes was "something we just do not do".
He said the cameras could only be trained on homes if it was requested by a senior police officer.
He also told the court this type of "close observation" is only granted once a special application has been made.
The allegations against Mr McCleave came to light after a colleague, who was working alongside the accused on 12 November 2012, returned to the camera monitoring room and noticed that one of the 48 cameras was trained into the living room of a local apartment.
'Serious misconduct'
The man said the camera showed a young woman walking around the apartment and that he believed the camera was being operated from the workstation where Mr McCleave was sitting.
The colleague reported the issue to the union representative, who also worked in the CCTV monitoring room and who subsequently informed police.
When asked by a defence barrister why it took seven days to report an "allegation of serious misconduct", the union representative said he had been off on leave.
He added: "I wanted to see the footage to see if it needed to be reported to the PSNI and when I saw the footage, I reported it."
Also giving evidence was a CCTV expert involved in the installation, configuration and maintenance of the police system.
He told the jury he had been called in to look at the Antrim Road system and said there appeared to be "some confusion" about the operation of the "three pods" operating the various camera screens.
He said the confusion stemmed from what each of the pods could or could not do and that he "was asked to look into it".
He said the problem occurred because of the configuration and peculiarities of pod three, which is at the centre of the allegations.