Magilligan Prison rebuild 'not guaranteed', says David Ford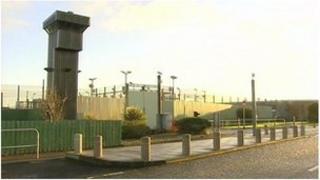 Justice Minister David Ford has said he cannot guarantee Magilligan Prison in County Londonderry will be rebuilt as planned or that additional employment will be created for the area.
A new jail, to be built on the current site, was announced by the minister in March 2013.
The redevelopment was announced as part of a £200m strategy for prisons in Northern Ireland.
About 400 people are employed at Magilligan Prison.
Last year, a prison review team appointed by Mr Ford said Magilligan Prison should be closed, and a new one built in a more central location.
'Cannot guarantee'
Mr Ford rejected that advice and opted for a new prison on the current site.
It was decided that the prison would remain open while building work was completed, with the project expected to take seven years.
Responding to a question in the assembly by DUP MLA George Robinson, Mr Ford said he could not guarantee anything.
"I am afraid that, at this stage and without the approval of the Department of Finance, I cannot guarantee that the project will go ahead as I would wish," Mr Ford said.
"Nor can I guarantee that there will be additional employment, since one of the key issues for any new build will be to ensure that it is manageable in the most efficient manner possible.
"Prison service officials are nearing completion of the outline business case for the redevelopment of Magilligan prison.
"When we talk about employment, we should recognise that we have now completed the voluntary early retirement scheme, with a significant number of officers being able to leave with dignity from the services that they performed in the past."
'Deteriorate'
DUP MP Gregory Campbell said "no-one can guarantee the rebuild will go ahead immediately".
"This has been a long running campaign," said Mr Campbell.
"The Justice Minister is accurate when he says he doesn't have the money in the kitty but there has to be a prison and the current prison is past its sell buy date.
"The question is, when will it be built?
"David Ford can't sit by and let Magilligan Prison deteriorate. The money will have to be found soon.
"Finances are very tight. This campaign cannot and will not be allowed to run into the sands of Magilligan Strand."
Finlay Spratt, chairman of the Prison Officers' Association, said: "Prison service management has allowed the prison to deteriorate and this is another step in that direction.
"I understand that money is tight at this present time, but this needs to go ahead immediately.
"I had a sneaky suspicion that this line would come out.
"Anything to do with rebuilding west of the Bann has always been subject to a lot of scrutiny.
"I think there are people in the Department of Justice who don't really want Magilligan to be redeveloped.
"Staff will not be too happy about this. We will continue to campaign."