Irish publican bans cheering against England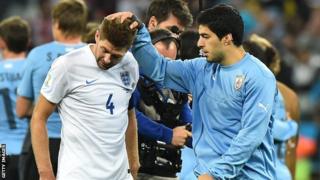 An Irish barman has slapped a ban on his fellow countrymen cheering against England in the World Cup in his London pub.
It's cheers but no cheers, as far as Galway man Ambrose Gordon is concerned.
And as England went down against Uruguay on Thursday night, the cheer did not go up in his north London bar, the Man of Aran.
"I would stop any Irishman from cheering, I wouldn't be having it," he said.
"We had a lovely crowd in, there were about 200 of them," he said.
"Down in the corner were a group of Irish lads, but they wanted England to win and that's the truth.
"There was one lad who came in singing about Suarez, but straight away it was bye bye to him," he said.
As for the English clientele: "They took the beating and there wasn't a problem."
Ambrose Gordon is well known on the London Irish scene.
He is a pub manager, a hurler and made a name for himself selling bootleg videos of Gaelic games in London.
They were pirate videos of The Sunday Game from Irish state broadcaster, RTÉ, snapped up by Irish people who missed watching Gaelic football and hurling. RTÉ programmes were not available in England at the time.
It ended up in court.
"I got a slap on the wrist," he said.
Now, there is talk about a Hollywood film about his bootlegging adventures.
Nevertheless, the pirate and publican, who has lived in London for 52 years, is adamant that cheering against the English football team is not right.
"It is about respect," he said. "There would be northern lads here from Antrim and I'd tell them that they are taking the sterling. I worked on building sites with English men and I never had trouble. They paid up the money and there was no messing at all."
Ambrose has memories from various World Cups.
But his favourite would be when the Republic of Ireland beat Romania on penalties in Italia 1990. He worked at the Spotted Dog in London at that time.
"There were about 500 Irish fans in the bar and they went out and climbed the telegraph poles and stuck a tricolour on top," he said, laughing.