Crowds gather to greet dawn in summer solstice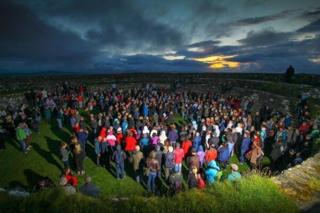 Parts of Ireland enjoyed the longest day of the year for almost 20 years in the summer solstice on Saturday.
Celebrated for thousands of years, it is the day when the length of time between sunrise and sunset on the horizon is at its peak.
It was estimated that Malin Head, County Donegal - the island's most northerly point - would enjoy 17 hours 27 minutes and 52 seconds of daylight.
The moment of the solstice - when the sun is at its most northerly point in the year - can be any time from 00.00 BST to 23.59 BST.
"If it's early in the morning or late at night, then we won't get the maximum amount of daylight which is theoretically possible. That maximum will only occur at any particular place if the solstice occurs at local noon there" said Terry Moseley from the Irish Astronomical Association.
"This year, the solstice will occur closer to local noon (11:52 BST) than at any time until the year 2031, except for the far west of the island, when a very slightly longer solstice day will occur in 2027," he said.
"It means the day will be longer than usual, but only for a matter of seconds. The average person on the street won't actually notice it."
Hundreds of people gathered at one of Ireland's most historic sites to welcome the summer solstice.
They met at An Grianán Fort in County Donegal at 03:00 BST on Saturday.
The fort - which dates back hundreds of years - sits on a hilltop in Inishowen and translates roughly as "the sunny place".
"Last year, a choir sang as the sun rose over the horizon, it was just magical," said Catherine McGinty from Féile Grianán Áiligh, which organises a summer solstice festival.
"There was just a sense of wonderment. The music was wonderful and people were quiet as the sun rose."