Queen meets Robinson and McGuinness at start of NI visit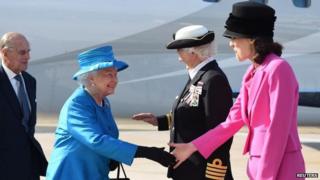 The Queen and the Duke of Edinburgh have arrived in Northern Ireland for a three-day visit.
The Royal couple's first engagement was at Hillsborough Castle, the Queen's official residence in Northern Ireland.
The Queen held separate private meetings with Northern Ireland's first and deputy first ministers, Peter Robinson and Martin McGuinness.
Mr McGuinness said it was "about reaching out the hand of friendship to the unionist community".
"I met Queen Elizabeth tonight in my role as Deputy First Minister, representing the entire community," said the Sinn Féin assembly member.
"Reconciliation requires bold gestures and this is the third time I have met with Queen Elizabeth as part of that continuing process."
Before meeting Mr McGuinness, the Queen also had an audience with Mr Robinson.
"I think the fact the deputy first minister is in sitting with an audience with the Queen at this moment perhaps demonstrates just how far we have come," said the DUP leader.
Meanwhile, Prince Philip met about 75 recipients of the Duke of Edinburgh gold awards.
Upon their arrival at George Best Belfast City Airport, the Royal couple were greeted by Secretary of State Theresa Villiers and Dame Mary Peters, Lord Lieutenant of the County Borough of Belfast.
Over the course of their visit, the Queen and the Duke of Edinburgh will attend a series of public engagements.
They will take a tour of Crumlin Road gaol in Belfast and visit the set of the TV series Game of Thrones in the Titanic Quarter.
There will also be a visit to St George's market on Tuesday, which will have stalls from the Friday, Saturday and Sunday markets.
The market will be open to the public.
It is the Queen's first visit since 2012, when she came as part of her Diamond Jubilee celebrations.
During that visit, the Queen and Martin McGuinness, Northern Ireland's deputy first minister and a former IRA leader, shook hands for the first time.
In April, Mr McGuinness toasted the Queen during a banquet at Windsor Castle as part of the state visit of Irish president Michael D Higgins.
The Queen and the Duke of Edinburgh will also attend a Royal British Legion reception in Coleraine, County Londonderry, and a lunch at Belfast City Hall.
It is their 21st visit to Northern Ireland.