BBC Proms in the Park in Northern Ireland returns to Titanic Slipways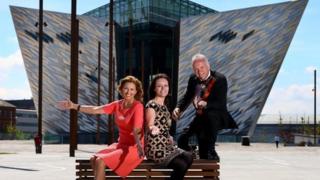 The BBC's Proms in the Park will return to the Titanic Slipways in Belfast on Saturday 13 September.
The event, which is now in its 13th year, will bring together artists from NI and around the world.
They will be performing alongside the Ulster Orchestra in a programme which combines classical and contemporary music and a few Proms surprises.
Eleven thousand free tickets will be will be allocated following a random draw.
Ticket applications can be made from Monday 23 June at 09:00 BST until Monday 14 July at 17:00 BST.
No applications will be accepted after this closing date.
A maximum of four tickets will be allocated per household address.
No late applications will be accepted and duplicate applications will not be considered.
The event remains one of BBC Northern Ireland's most ambitious and popular outside broadcast events.
Last Night of the Proms events will also take place at other locations across the UK.
BBC Proms in the Park in Northern Ireland will be hosted by Noel Thompson and Claire McCollum.
Peter Johnston, BBC Northern Ireland director, said: "Following the success of last year we are delighted to be able to bring the 2014 BBC Proms in the Park in Northern Ireland back again to Belfast and to the Titanic Slipways.
"This event is one of the most ambitious outside broadcasts we undertake each year, with demand for tickets always exceeding supply.
"BBC audiences at the event and those watching and listening at home can expect a very special evening - showcasing local and international talent and celebrating the very best in music-making."
This event is supported by Belfast City Council.
Belfast Lord Mayor Nichola Mallon said she was "delighted" to welcome back the BBC Proms in the Park concert to Belfast.
"We look forward to another stunning evening of entertainment set against the wonderful backdrop of Titanic Belfast," she said.