Queen's NI visit: WWI centenary marked in Coleraine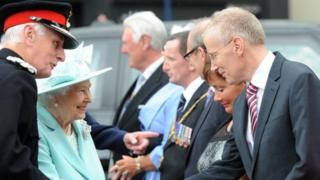 The Queen and the Duke of Edinburgh travelled to Coleraine, County Londonderry, for the final engagement of their three day visit to NI.
Thousands of people turned out to welcome her to the town hall, where she met Royal British Legion members.
The Queen then took part in a service to mark the centenary of World War One before laying a wreath at the cenotaph.
Afterwards, she conducted a brief walkabout to meet wellwishers in The Diamond.
The Royal couple then left Coleraine to prepare for the journey back to London.
Earlier on Wednesday, she met Antiques Roadshow experts at Hillsborough, County Down.
She met presenter Fiona Bruce and the BBC team that was filming at Hillsborough Castle, her official Northern Ireland residence.
People dressed in period costume from 100 years ago were among those greeting the Queen and the Duke of Edinburgh at the Royal British Legion event.
The Royal couple have had a packed itinerary during their three days in Northern Ireland, including a visit to the set of television show Game of Thrones, a tour around the notorious Crumlin Road jail and meetings with first and deputy first ministers, Peter Robinson and Martin McGuinness.
It was the Queen's first visit to Northern Ireland since 2012, when she came as part of her Diamond Jubilee celebrations.
In the past, details of Royal visits to Northern Ireland have not been announced beforehand for security reasons, but this time around, much of their itinerary was made public.
On Thursday, the Antiques Roadshow will be filming in the grounds of Hillsborough Castle.
Some of Britain's leading antiques and fine arts specialists will be on hand to offer free advice and valuations to members of the public.