North-south interconnector: Delays to project could lead to energy shortages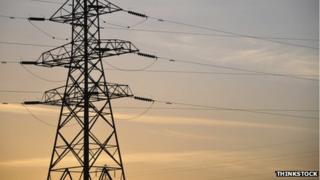 Northern Ireland could face serious energy shortages if the north-south electricity interconnector project is not started soon.
The warning comes from the Institution of Civil Engineers (ICE).
The link was meant to be ready by 2017, but the earliest it is now likely to be built is 2019.
There are concerns the delay could lead to power cuts because of other shortfalls in the generation of electricity.
The ICE said if delays go beyond 2021 the risk to security of supply "becomes very high indeed".
The details are contained in its report on the state of infrastructure in Northern Ireland.
The Northern Ireland electricity system currently has spare capacity of 600 megawatts (MW).
But by the end of 2015 that will fall to 200 MW.
The organisation that runs the grid (SONI) consider this is not enough to guarantee security of supply if there was a prolonged fault at a power station.
The main issue is that EU pollution rules means that part of Ballylumford power station will have to be shut down.
The undersea Moyle interconnector, which has suffered a series of faults is also a factor.
It is currently running at 50% capacity, but if it can be fixed by the end of 2015 it will add a further 250 MW, solving most of the problem.
However, this is just a temporary measure before the cables are completely replaced in 2017.
It would also be possible to modify the offending bits of Ballylumford, but this likely would come at a cost to consumers.
Looking ahead to 2021, Kilroot power station will have to run at reduced capacity, again due to pollution rules.
A spokeswoman for the Department of Enterprise, Trade and Investment said: "Northern Ireland currently has an adequate supply of energy.
"The minister has worked with relevant authorities to make sure this remains the case and will take further action if necessary."
Enterprise Minister Arlene Foster has previously said she does not believe there will be an energy shortfall.
Speaking at Stormont in March she said: "We will have the capacity in place by 2016.
"If the market doesn't come up with the solution, I have always the power to intervene as a government myself. So we can intervene as a department and set up generation."
The north-south electricity interconnector is due to link the island's power grids and will link Turleenan in County Tyrone and Woodland in County Meath.
It is estimated the cost will be about £250m.
The cross-border link is controversial and is opposed by some landowners and residents who regard the pylons as unsightly and also claim there is a health risk.
It is also been drawn into a wider political row about electricity pylons in the Republic of Ireland.