Belfast 'Old Tech' building to be turned into student rooms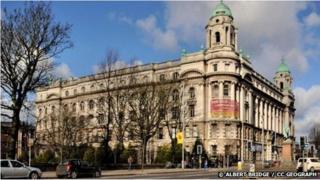 A Welsh property firm that bought the former Belfast Metropolitan College building at College Square East is to build student rooms on the site.
Watkin Jones & Sons said it plans to build 400 student rooms.
The company said it hopes to convert the Edwardian building into student accommodation in time for the start of the 2016 academic year.
Watkin Jones & Sons has developed more than 25,000 student rooms across the UK.
The building, on College Square East, was owned by Belfast Metropolitan College.
The college put the listed building up for sale after relocating to its new Titanic Quarter campus in 2011.
Increased demand
Demand for student accommodation in central Belfast is likely to increase following the opening of the University of Ulster's new Belfast campus, which is currently under construction.
Glyn Watkin Jones, the company's chairman said it had been monitoring the Belfast student housing market for over five years.
"We are aware of the under-supply of purpose-built accommodation in the city and the on-going issues in the Holylands," he said.
"We believe this £16m investment to deliver around 400 beds spaces will offer a high quality product, which is currently not available for the students studying in Belfast.
"With the new University of Ulster campus under way, Queen's and Belfast Met continuing to grow, along with Belfast attracting significant investment we see this as an ideal time to enter the Belfast market."