Technology firm Options creating 31 jobs in Belfast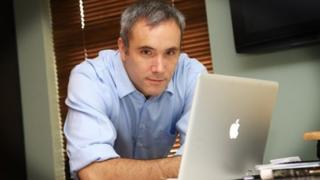 A London-based financial technology firm has opened a Belfast office and is creating 31 jobs.
Options provides services that allow investment banks, hedge funds and private equity firms to outsource some of their technology functions.
The firm employs over 100 staff globally and has been growing over the last 18 months, including in the US.
The firm's chief operating officer is Danny Moore, who built the Belfast-based technology firm Wombat.
Wombat was was bought by the New York Stock Exchange for around £100m in 2008 and has recently been sold to another New York firm, SR Labs.
Mr Moore said: "The burgeoning financial technology sector here, coupled with a dynamic, motivated and highly educated workforce, makes Belfast a perfect fit for Options.
"The breadth of local talent, both technical and non-technical, is the reason we brought Wombat to Belfast, and later NYSE, and I've no doubt that it was this talent that helped propel Wombat to its ultimate success.
"Similarly, I fully expect Belfast to be an integral part of Options' future growth."
The firm is recruiting for roles in client support, account management, marketing and engineering.
Enterprise Minister Arlene Foster said Northern Ireland's high-speed telecommunications links to the US and Europe had also attracted the firm.
Citigroup and CME Group are the major financial technology employers in Belfast while a number of smaller companies have also set up in the city.
Citigroup is widely expected to announce an expansion of its Belfast operation in the near future.