Pharrell Williams was never booked to perform at Newry gig says publicist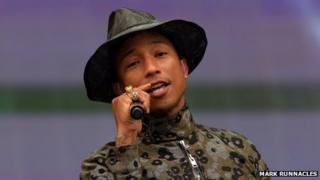 Investigations are under way to discover if a County Down nightclub has been scammed into believing they would stage a Pharrell Williams gig.
The gig had been promoted and advertised by b.e.d nightclub in Newry.
A publicist for the US singer has said he was never booked to perform at the club.
The nightclub and the promoters say they acted in "good faith" and believed they had secured a performance from Pharrell.
Pharrell's publicist confirmed no gig would go ahead and said that they were investigating the circumstances.
A spokesperson for the singer said: "Pharrell is not affiliated with this event and he and his team have no knowledge of it; unfortunately it appears to be a fraud."
Pharrell has had huge chart success with hits like Happy, Blurred Lines and Get Lucky.
Posters started appearing in Newry and on social media on Tuesday publicising the event for Saturday 5 July.
Tickets for VIP meet and greets with the star had already been on sale and the club had been taking bookings.
When the BBC contacted Pharrell's publicist on Wednesday afternoon they said they were surprised to hear a gig featuring the singer was being promoted and advertised for the Newry nightclub and confirmed that no booking existed.
'Deepest regret'
Investigations are now under way to find out if the nightclub and the local promoter had been scammed.
A statement from Ask1 agency and b.e.d nightclub said: "It is with deepest regret that we make this statement to inform all BED customers that due to events outside the control of Ask1 agency and our principal b.e.d nightclub the Pharrell Williams event, advertised to take place on 5 July 2014, will no longer be taking place.
"Due to external factors outside of our control we have become aware that the event will not be taking place and we can categorically confirm that Pharrell Williams will not be attending the premier venue b.e.d nightclub," they said.
"All promotions and advertising had been undertaken in good faith and on the basis of negotiations that had taken place up to 25 June 2014.
"We apologise for any inconvenience caused and we are equally disappointed that the show did not go ahead.
"For legal reasons no further comment will be issued in respect of the matter."