'Shoot-to-kill' cases: NI coroner warns government over inquest delays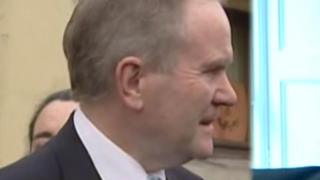 Northern Ireland's most senior coroner has warned the government over what he called "intolerable" delays to inquests into Troubles-related killings.
John Leckey said the government could be in breach of international law if it does not provide adequate resources to allow cases to proceed in a timely way.
The cases include a number of alleged "shoot-to-kill" police killings in NI.
Mr Leckey told a Belfast court the NI secretary of state has not replied to a letter he sent over three weeks ago.
The coroner said he instructed his solicitor to write on his behalf to Theresa Villiers on 4 June, outlining his concerns about delays to inquests into nine controversial deaths.
The cases included the deaths of six people who were shot by the Royal Ulster Constabulary (RUC) in 1982 and the killings of three RUC officers who died in an IRA land mine attack in the same year.
The fatal shootings were previously investigated during the Stalker-Sampson Inquiry, which sought to determine whether the security forces had operated a shoot-to-kill policy in Northern Ireland.
The Stalker-Sampson reports have never been made public.
The inquests, which have yet to formally begin, have been held up by repeated delays in the disclosure of state files, including security forces' records.
'Plagued by delay'
Mr Leckey told Belfast Coroner's Court that despite requesting an urgent response from Ms Villiers, he has heard nothing from her.
The coroner read the contents of the 4 June letter to the court.
One section of the correspondence said: "These cases have been plagued by delay and slow progress, caused principally (but not exclusively) in the senior coroner's view by a lack of provision of appropriate resources to allow the PSNI to provide proper disclosure and the coroner to pursue other lines of inquiry in an effective and timely fashion."
The letter added that despite Mr Leckey's "best efforts to prompt, cajole and order progress, the commencement of the hearings of these Inquests remains at an uncertain point in the future".
"In the meantime, family members and witnesses are getting older and memories are fading with the passage of time. Some witnesses have already passed away. Undoubtedly more will have died by the time the inquests are held," the letter said.
It warned Ms Villiers that "sufficient resources" were required to allow the police, the Ministry of Defence, MI5 and other state bodies prepare for the inquests.
"A failure to address this issue in a timely and proportionate manner undoubtedly would result in deep dissatisfaction, the UK government being potentially in breach of its own international obligations," the letter added.
Northern Ireland's Attorney General John Larkin and Advocate General for Northern Ireland Dominic Grieve were also copied into the letter.