A history: from Dance Master to Lord of the Dance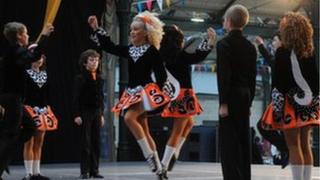 Glittering costumes, curly wigs and false tan. These are three things which are strongly associated with competitive Irish dancing today.
How did this form of dance that was once an integral part of Irish tradition become a worldwide phenomenon?
The history of Irish dance is a long and colourful one.
There is some disagreement over the exact date of origin of Irish dancing.
It is believed that the story begins thousands of years ago.
There is reference to Irish dancing in Ireland's cultural history throughout the 16th and 17th centuries.
The 'Travelling Dance Master'
Most historians agree that by the 18th century, the 'Travelling Dance Master' appeared on the scene in Ireland, and that he made a major contribution to Irish dancing as we know it.
The dance master was a colourful character who travelled around Ireland, teaching dance to the peasants in the surrounding areas.
He would lodge with a local family and give lessons, for a fee, to those who could afford them.
Lessons would be held in a barn or large space; usually provided by a local farmer, whose children in turn received tuition for free.
It was often a cause of great excitement and esteem to have a dancing master staying in the parish.
Dancing often took place at crossroads when the weather was fair, as this was a large space, suitable for group dances.
Fast forward to 2014 and great change is evident.
The Irish dance "Olympics"
Irish dancing competitions reflect the worldwide appeal of Irish dance.
The first World Irish Dancing Championships were held in 1970 in the tiny theatre of Coláiste Mhuire in Parnell Square in Dublin.
In 2014, London hosted the World Irish Dancing Championships, the competition that is also known as "the Olympics" of Irish dance. This year marked the first time ever that the competition was held in Great Britain.
Some 5,000 competitors from across the globe took part in the event. There were approximately 20,000 friends, relative and teachers also in attendance.
Northern Ireland, Ireland, America and Scotland have all hosted the World Championships.
In 1932-33 when An Coimisiún le Rincí Gaelacha (CLRG), the official body which regulates Irish dancing, established a register of those qualified to teach and to adjudicate Irish dancing, it listed 32 teachers and 27 adjudicators, all of whom were Irish.
Today CLRG records indicate that Irish dancing is practiced in countries as far afield as Japan, Brazil, Argentina, South Africa and at an ever-growing rate in Eastern Europe.
As Irish dance appeal continued to grow, overseas participants contributed to the ever-changing and evolving dance form.
The Riverdance effect
A 1994 performance by Riverdance, during an interval at the Eurovision song contest, has been credited as launching Irish dancing's worldwide success.
Riverdance not only changed the image of Irish dancing, it altered the appearance of the Irish dancer.
Irish dancing costumes became looser, less restrained and more relaxed as Riverdance shows increased in popularity.
Audiences became more focused on the feet of the dancers and the steps they performed and were not distracted by embellishment.
The evolution of the Irish dancing costume has continued.
Twenty-first century competitive Irish dancers wear expensive costumes, made with very bright fabrics that are embellished with crystals.
Modern Irish dancing dresses are very eye-catching, yet they are designed with the same intention as earlier dresses, to showcase the talent of the Irish dancer.
Traditional steps
At the heart of Irish dancing is traditional music.
This music has survived the test of time, remaining the same throughout the evolving years of Irish dancing's history.
The dances performed in Irish dancing are based around the music. Dancers perform jigs, hornpipes, reels and set dances.
Dance steps have increased in complexity over time, however, the fundamental and traditional steps from the earlier days of the 'Travelling Dance Master' remain.
Irish dancing has roots in Celtic Ireland, given the worldwide success of Irish dancing, its legacy is likely to continue, albeit with a bit more sparkle than before.
On Friday 27 June, The Ulster Folk and Transport Museum in County Antrim will launch 'A Step in Time: The Story of Irish Dance' exhibition.
Almost 100 objects will be on show, ranging from a medieval brooch to a contemporary Irish dancing costume encrusted in diamantes.
This exhibition that aims to bring the history of Irish dance to life will run until January 2016.