Michelle O'Neill announces new deal on farm payments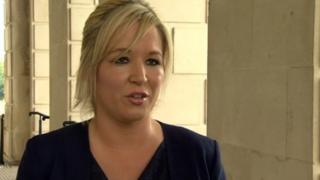 A new deal on farm payments and rural development has been endorsed by the Stormont Executive, it has been announced.
Agriculture Minister Michelle O'Neill said a new system on farm payments would be phased-in over seven years.
It will eventually see all farmers receiving the same flat-rate of £100 per acre.
The executive has also agreed to £623m of funding for the Rural Development Programme.
Funding for the programme was the subject of a court challenge by the Finance Minister Simon Hamilton against the Department of Agriculture last year.
'Balanced solution'
The agriculture minister also announced that the executive had endorsed the Going for Growth proposals unveiled by the Agri-Food Strategy Board last year.
The strategy included a target for the agri-food industry to create 15,000 jobs by 2020.
Ms O'Neill said the announcements were "significant" and that she was satisfied that the executive had reached agreement to reform the Common Agricultural Policy (CAP) farm payments.
The new system should benefit hill farmers, who had previously not received as much for their land as more productive lowland farmers.
"Compromise was needed and we have succeeded in finding a fair and balanced solution that represents a good outcome for farmers right across the north," she said.
"We were all well aware that if decisions on these issues are not notified to the EU Commission by 1 August, then the default position would be imposed on us by Brussels.
"This was a situation I was determined to avoid, especially when I fought so hard to secure the right to make decisions locally."
'Positives'
The Ulster Farmers Union (UFU) said the new flat-rate farm payments system was not ideal, but welcomed the seven-year transition period.
Ian Marshall, UFU president, said: "This hasn't been an easy or smooth process for anyone involved and farmers across Northern Ireland have been seriously worried over the past few months that we would be facing a default position come 1 August.
"The fall-out would have been a complete disaster for the industry and undoubtedly it would have put many farm businesses at risk.
"Farmers at least now know where they stand and, while it isn't exactly what the union was hoping for, we need to look at the positives.
"A seven-year transition means that Northern Ireland has the longest transition period of all the UK regions and it gives farmers some time to adapt their businesses."
Earlier, Ms O'Neill also said her department remained on target to move its headquarters to Ballykelly, County Londonderry, by 2016.
She said the business case for the move had been agreed.