Peace charity feels effect of Robinson/McGuinness deadlock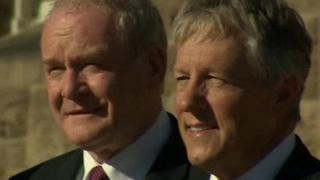 During the Queen's visit this week, the first and deputy first ministers did what they do best: the symbolic show of unity.
But they are far from united on a range of issues, and a leading peace charity has claimed that the deadlock at the top is being felt on the ground.
Colin Craig, from the Corrymeela Community, said that they had to scrap an annual summer scheme to assist 50 at-risk young people in areas such as north Belfast.
The charity applied for funding six months ago but money has not been forthcoming.
"The last contact we had was in May, in which they basically said there have been a lot of applications and they were trying to work their way through. So it might be a resource issue," he told BBC NI's The View.
"But as we talk through with various politicians, there is an indication it might also be connected with the welfare budget not being agreed.
"At our level we don't know that. All we know is that downstream the money is not being released."
In a statement, the Office of the First Minister and Deputy First Minister (OFMDFM) said there was significant demand for the grants and it had already allocated £500,000 to priority projects under the Central Good Relations Fund.
"This fund is not designed to pick up mainstream core or project funded activities.
"It is a small in-year scheme designed to support project delivery and to utilise available funding.
"Further funding will be released as it becomes available and we will contact applicants as soon as a decision has been made regarding their applications."
'Crossing a line'
Welfare reform is just one of the issues that the first and deputy first minister have failed to agree on.
The result is around £100 million in penalties from the Treasury so far.
Ministers have yet to agree how to find the money.
What is more, in April Martin McGuinness accused Peter Robinson of "crossing a line" by claiming that the deputy first minister had agreed a deal and then failed to deliver.
Their very public spat over the Maze prison project last August is viewed by many as a seismic turning point in their relationship.
In what Sinn Féin dubbed "the letter from America" to his party, Peter Robinson pulled the plug on the project.
Martin McGuinness was not told in advance and it is no secret he was furious.
Indeed, he vented his frustration in an Irish News interview earlier this year.
The pair have been sharing power since June 2008. They have often protested that the media give a negative impression of their relationship - certainly a message delivered in Washington in March.
'Reactive'
Political analyst, Dr Cathy Gormley-Heenan from the University of Ulster, told The View that the pressures of their relationship involve managing the expectations of the public and the expectations of their parties.
She said political leaders often behave like chameleons, reacting to their environment when they are under pressure or there is tension in the background.
"They are very reactive to the temperature, the environment, the circumstances in which they are operating on a day-to-day basis, in the same way a chameleon changes its colour, reacting to its environment. If it is is unnerved or under pressure, it suddenly changes the way it looks," she said.
This week, Peter Robinson and Martin McGuinness told their committee that they had met or exceeded almost 80 per cent of their Programme for Government targets, including jobs.
Martin McGuinness cited problems around flags, parading and the past and how it was important to resolve these issues.
"You are judged more on the failure to get an agreement on that, than the successes," he said.
Dermot Nesbitt, a former Ulster Unionist junior minister in the Department of OFMDFM, said it is an extremely frustrating set up as both ministers have to agree all key decisions.
Toxic situation
He said "shared responsibility" means no responsibility, which makes it easier to blame the other partner.
He added that it is perhaps time to move from mandatory coalition to a voluntary coalition, whereby the parties have reached agreement on a programme before they enter office.
He also said this had not prevented problems in the coalition government between Conservative David Cameron and Liberal Democrat Nick Clegg, but said he no longer thinks the current system is necessary for political stability.
Mr Nesbitt thinks the lack of trust that sprang from the souring of the Maze deal has added to a toxic situation.
Mark Durkan, a former SDLP deputy first minister, said it is the first minister's attitude, not the system, which needs to change.
He said Mr Robinson is adopting a "now you see it, now you don't approach" to the joint office. He also said the two ministers were strongest when they were united.
But the potential for division is likely to grow as elections loom next year and in 2016, as well as amid difficult negotiations on flags, parading and the past.
The situation is not helped either, said Dr Gormley-Heenan, by sporadic speculation that Peter Robinson is becoming an isolated figure in his party.
She said credibility with a power-sharing partner is extremely important in negotiations.
Mr Craig, from Corrymeela, had this message for all the politicians: "Please sort these road blocks out. Because we need you to give leadership. We need you to help us move on in a constructive way."