Swarms in contest to call Clandeboye bee house their home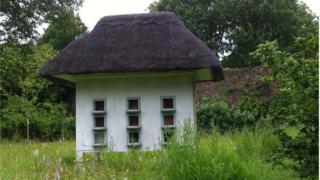 After a number of bee swarms over the last month, several colonies are now battling it out for permanent residence at the bee house in the Clandeboye estate. County Down.
When thousands of bees swarmed on a car in nearby Bangor in May, they could not have picked a better time or place.
A beekeeper had been called for another swarm that buzzed off before he arrived.
But he was able to offer the second group a new home - in his back garden, then in a bespoke beehive.
"I discovered that the swarm didn't have a queen," said Phelim Breen, a beekeeper and honey-maker from Newtownards.
"So I had to find a queen to introduce to them. And last Wednesday, we moved them over here to Clandeboye, to the bee house.
But they were faced with competition for this most elite of apian addresses.
"Unfortunately, they have to share the bee house with two other swarms - another swarm we got from Holywood and one from Newtownards," said Phelim.
"As time goes on, we'll decide which swarm of bees is the friendlier. We'll keep them in the bee house and the other two will have to move out."
The Thomas Jackson Bee House got its name from the 19th Century architect who designed it. He also designed Altona House in Holywood, home to the Greeves family.
A descendant, Colonel Greeves, made a present of the remains of the bee house to Lady Dufferin of Clandeboye in the 1980s.
Estate curator Lola Armstrong said it was not quite what she had expected.
"When she went up to see it, it was lying in a heap in his yard and he was very excited about it. But Lady Dufferin very graciously brought it back to Clandeboye estate.
"She had a master craftsman, Billy McKee, and they were pondering what they should do with it, because they'd no idea what it should look like.
"Then Colonel Greeves phoned her after a couple of days and said, 'I forgot to tell you, I've got the plans - 1827.'
"So Billy McKee set to and he rebuilt as it should have been, from the plans."
The bee house is surrounded by a wide ring of wildflowers. The original patch of turf that started the growth came from a 20-acre wildflower meadow on the estate.
"We've got a lot of different species in here - knapweed, orchids, fritillaries, cowslip, scabious and ragged robin," said Fergus Thompson, head gardener at the estate.
"One of the important ones is the yellow rattle - it actually parasitises the grass and that helps all the wildflowers to do well."
The recent good weather helped the Bangor swarm settle in quickly. Now all eyes at the estate are on the 'windows' of the bee house, to see which swarm will eventually call it home.