Professor Edmund Cairns death: Geoffrey William McLaughlin jailed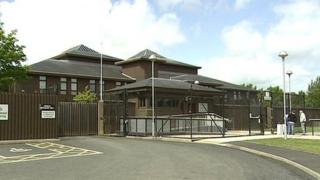 A man who initially blamed a retired psychology professor for the road crash in which the professor was killed, has been jailed for six months.
Geoffrey William McLaughlin, 40, from Ford Road in Stranocum County Antrim, was also banned from driving for three years.
He had originally been charged with causing the death of Prof Edmund Cairns by dangerous driving.
However, two days into his trial he pleaded guilty to lesser charges.
He admitted causing death and grievous bodily injury by driving without due care and attention.
On Friday, a judge at Antrim Crown Court told McLaughlin while it maybe natural to avoid blame, what he did was "particularly mean spirited to blame an innocent man who can no longer defend himself".
Mr Cairns' 10-year-old son was also injured in the two-vehicle crash in Coleraine in February 2012.
The professor's daughter Clare, speaking on behalf of the family, said now the case was over, all they wanted to do was thank the police and get on with their lives.
"At this point we would like to thank the police for all their work in the investigation. We are pleased now that the matter has been completed and sentence has been passed, and we can move on," she said.
'Truly heart-rending'
Earlier she and her family listened as the judge told how McLaughlin, despite "clear and independent evidence", and legal advice, persisted in declaring his own innocence, claiming the professor had caused the accident, which must have been extremely distressing for his grieving widow and family.
However, by his guilty pleas he had saved the family of the world-renowned scholar the added stress of a trial. Probation reports also indicated McLaughlin was deeply remorseful and repeatedly apologised for causing the professor's death.
Mr Cairns' widow Ida, said the judge, in a "truly heart-rending" victim impact report and one of the most "dignified and measured in tone" that he had ever read, spoke of how "her life was literally torn apart that morning".
Extending the sympathy of the court, the judge said that Mrs Cairns also told of her life being "turned upside down and shattered into tiny pieces" and in the death of her husband she had lost "the love of her life, and best friend", a father of three and grandfather of seven.
The judge said that the courts recognised the hurt and pain caused to families in such tragic cases and the need for custodial sentences. However, it was also accepted that no sentence could reflect or compensate loved ones for their grief and loss.