Stephen Jones trial: North Belfast man jailed for ammo find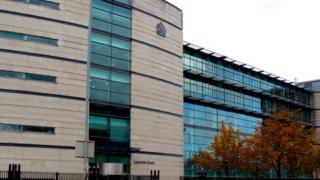 A "vulnerable and easily led" man who was arrested after ammunition was found in his north Belfast flat has been given a nine-month jail sentence.
Stephen Jones, 50, of Cliftonville Avenue, pleaded guilty to possessing ammunition in suspicious circumstances.
His flat was searched by police on 24 September 2013, who found various types of ammunition in a sock drawer.
He was sentenced to nine months in prison and a further nine months on supervised licence.
Belfast Crown Court heard that the search of his flat turned up ammunition, a magazine for a .22 rifle, two pairs of latex gloves and paraphernalia that showed "support for republicanism".
Jones was then arrested at Europa Bus Station while on board a bus to Enniskillen, County Fermanagh.
He had no luggage or money and was taken to Antrim police station, where he was questioned about the ammunition and magazine found in his flat.
The father-of-one initially denied any knowledge of the items, claiming he was under threat from paramilitaries who had set him up.
He also said he left his flat open, and it was later confirmed that the property was unsecured when it was searched by police.
When questioned about being on the Enniskillen bus, Jones denied he was fleeing and said he was going to visit a friend.
Assaulted
During the course of the interviews, Jones gave "various inconsistencies" to police, but he subsequently pleaded guilty to a charge of possessing ammunition in suspicious circumstances.
A prosecuting lawyer said the ammunition "was not in particularly good condition, and there is nothing to suggest he had access to any means of using the ammunition".
The court heard that Jones had previously been convicted in 1983 for robbery and being a member of a proscribed organisation.
His defence barrister described Jones as a "vulnerable" person who had been the victim of three serious assaults in the last nine years.
On one of these occasions, he was stabbed coming home from a christening.
Jones' barrister said: "By associating himself with particular people, he assumed that it would offer him an element of protection, but he has now been disabused of that."
He also said Jones was a man "without guile", who was "precisely the type of person someone would take advantage of or use to store something like this".
The barrister also told the court the flat where the ammunition was found was "spartan" and "not secure".
Acknowledging that Jones was a "vulnerable and easily led person", the judge handed him an nine-month prison sentence and made an order for the destruction of the items found in the flat.