G4S: NI minister condemns dissident republican threat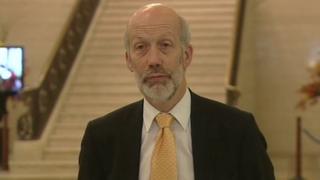 A dissident republican threat made against staff from the security firm G4S has been condemned by Northern Ireland's justice minister.
The threat followed a gun attack on an empty G4S vehicle in Belfast last week. No-one was injured in the shooting.
Days later, a group calling itself the IRA reportedly issued a threat against G4S staff who carry out electronic tagging of NI offenders and suspects.
Justice Minister David Ford called for the threat be withdrawn immediately.
G4S, the world's biggest security service firm, has a contract to carry out electronic tagging services in Northern Ireland on behalf of state criminal justice agencies.
'Safety'
The threat made against G4S staff involved in the work was reported in a Belfast newspaper, the Irish News, two days after the gun attack.
In a statement to the BBC, a G4S spokesman said: "We have been made aware of a threat to our staff and we are working closely with the Police Service of Northern Ireland and the Department of Justice.
"Our top priority is the safety and security of our employees who are carrying out their legitimate work which helps contribute to the justice process and public safety."
The gun attack on the firm's vehicle took place in Oceanic Avenue, north Belfast, at about 21:50 BST on Thursday 26 June.
A number of shots were fired into the empty car that had been parked on the street. The shots damaged two windows of the vehicle, but no-one was hurt.
A 24-year-old man was arrested and questioned, but was released the following day pending further enquiries.
'Fear of threat'
In a statement on Sunday, the justice minister said: "Threats against anyone in our community are totally unacceptable and this threat needs to be withdrawn immediately.
"Companies carrying out legitimate contracts for government help our society to function normally and their staff need to be able to carry out their work without the fear of threat."
Mr Ford added that electronic monitoring "makes an important contribution to public safety and enables individuals who might otherwise be remanded in custody to remain with their families whilst the justice process takes its course".
A Police Service of Northern Ireland spokeswoman said officers would "not discuss the security of any individual".