Derry bids farewell to Clipper yacht race crews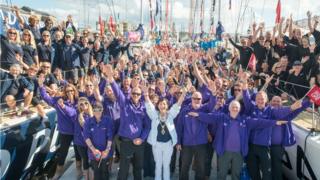 The Clipper Round the World yacht fleet has left Londonderry as the city's nine-day LegenDerry Maritime Festival draws to a close.
Derry was the penultimate stopover for the 12 international teams taking part in the world's longest ocean race.
About 270 crew members cast off from Foyle Marina on Sunday, sailing towards Greencastle for the next race stage.
On Saturday night, huge crowds gathered at the quayside to watch a spectacular firework display on the River Foyle.
'Inspiring'
The pyrotechnic display included a fiery battle between two pirate ships, in tribute to the Clipper race competitors.
On Sunday morning, chefs from city prepared a special breakfast for the crews, before the teams were led to their yachts by Derry Mayor Brenda Stevenson.
She told them: "We've loved having you here. You're helping us tell our new story with pride and inspiring a new generation in this city."
In the afternoon, the Red Arrows flew over Lough Foyle to close the city's maritime festival.
Last week, the Derry-Londonderry-Doire yacht crew won its home leg of the Round the World race.
The 2,800 mile leg from New York to Derry was the 14th stage in the 16 series sailing competition.
The home victory put the crew in fourth place and in contention to challenge for the third spot on the podium.
Stage 15 will take the fleet on an 800 nautical mile route over Scotland and then down into the North Sea.
The boats are expected to arrive in Holland between 2 and 4 of July.