Ballymoney pipe bomb: Ballymena Road re-opens after controlled explosion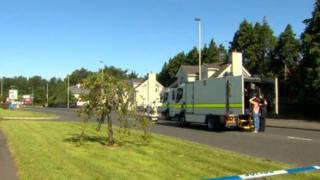 A pipe bomb has been found on the windowsill of a house in Ballymoney.
A controlled explosion was carried out on the device which the police described as viable.
The object was discovered at the house on the Ballymena Road, causing the evacuation of a number of houses and disruption to residents of a nearby care home.
They have been allowed to return to their homes and the road has been re-opened.
Parts of Kilraghts Road and Garryduff Road were also closed for a time.
Jackie Peacock, who manages Garryduff House, a care home for people with learning difficulties, said the alert had been "very disruptive" to residents.
"We had to evacuate the main house that has seven people with learning difficulties, and move them further back at the back bungalow.
"We've been trying to get staff in and it has been very difficult to get through.
"The police have been co-operative with us but have tried to say, for our safety, that we can't come near the building.
"When we have said we have to get through to look after the people, they have been very good and escorted us into the building."
Mervyn Storey, from the Democratic Unionist Party (DUP), has visited the scene of the alert and condemned the disruption to local residents' lives.
"Those responsible for this suspicious object clearly have no regard for the people of this area," he said.
"A number of families have had to be evacuated from their homes and it is causing disruption whilst the Army Technical Officers carry out their examination."
The North Antrim MLA said he hoped those responsible would be brought to justice.